All Spring Fire Department Shifts Receive Mayday Operations Training
by Tyler Mowery
Spring firefighters consistently train to stay up to date on mayday situations. As firefighting becomes more challenging and dangerous due to new developments and synthetic construction materials, this training is now more important than ever.
Firefighters regularly participate in hands on training for these situations but they also learn statistical information.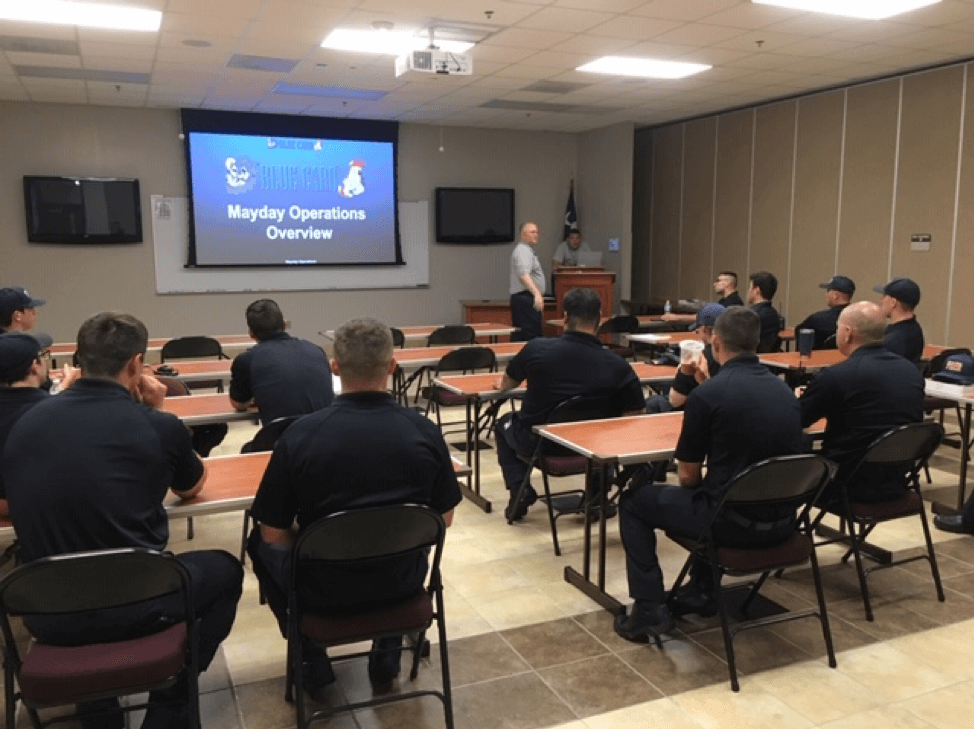 (Senior Captain Eric Ruple instructing a class of firefighters Photo credit: Tyler Mowery)
As instructor, Senior Captain Eric Ruple emphasizes the importance of safety and proficiency during a mayday situation.
"There are inherent dangers that come with being a firefighter. As much as we try to implement safety measures to prevent them, sometimes things are out of our control, even with the best training," Ruple said. "With that said, we at SFD try our best to prepare our firefighters to have the mental awareness of the situations that they will inevitably be involved with and hopefully we can reduce these situations from occurring or at the very least, teach them to be more aware when they are in a higher risk type of situation."
The information in the presentation comes from 20 year fire service veteran Don Abbott, who has dedicated many hours to researching and gathering statistic on firefighter injuries and deaths so that they may be prevented or reduced.
"With this information, we are able to educate our firefighters, using real world data, on what type of situations statistically increase our chances of a mayday situation," Ruple said.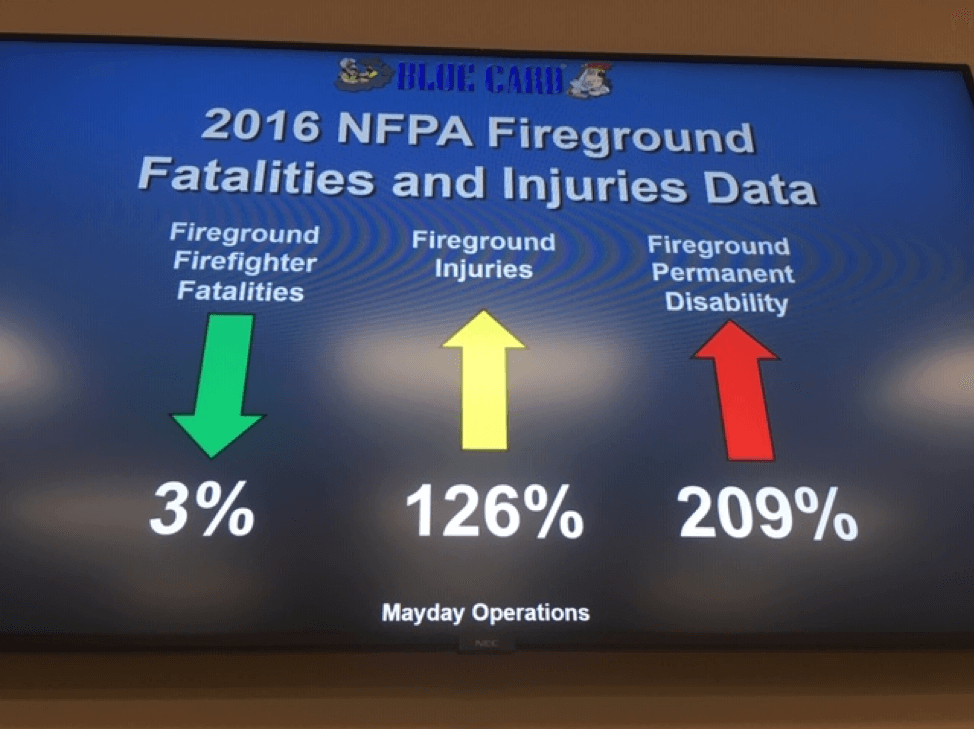 (Photo Credit: Tyler Mowery)
Firefighter Brent Silvey emphasizes the importance of learning how to operate maydays in a way that is new to SFD.
"SFD does their best to stay on the leading edge of training," Silvey said. "Having recently shifted our operations to follow the Blue Card format, it was important for us to see both the way that Blue Card suggests you operate in during maydays as well as the statistics of fire fighter fatalities."
Mayday training hits especially close to home for Ruple because he lost two close friends in the 2013 Southwest Inn fire.
"I have been a member of (Houston Fire Department) Station 51 since 2009, respectively. I personally knew 2 of the 5 firefighters that died that day," Ruple said. "I came through the Academy with Captain Mathew Renaud and was relieved by Engineer Operator Robert Bebee every week. I was assigned as the Engineer Operator for Ambulance 51 at the time of the fire. Having known the both of them personally and professionally, I can say that the outcomes of that day have definitely influenced my motivation to teach Mayday training. If this type of situation could happened to firefighters that I know were great firefighters, then it can happen to anyone."
Brent was directly involved in a mayday situation in which a wall collapsed onto him and pinned another firefighter while performing an overhaul operation.
"The training we had all received prior to this event had certainly played a role in the way this may-day ended," Brent said.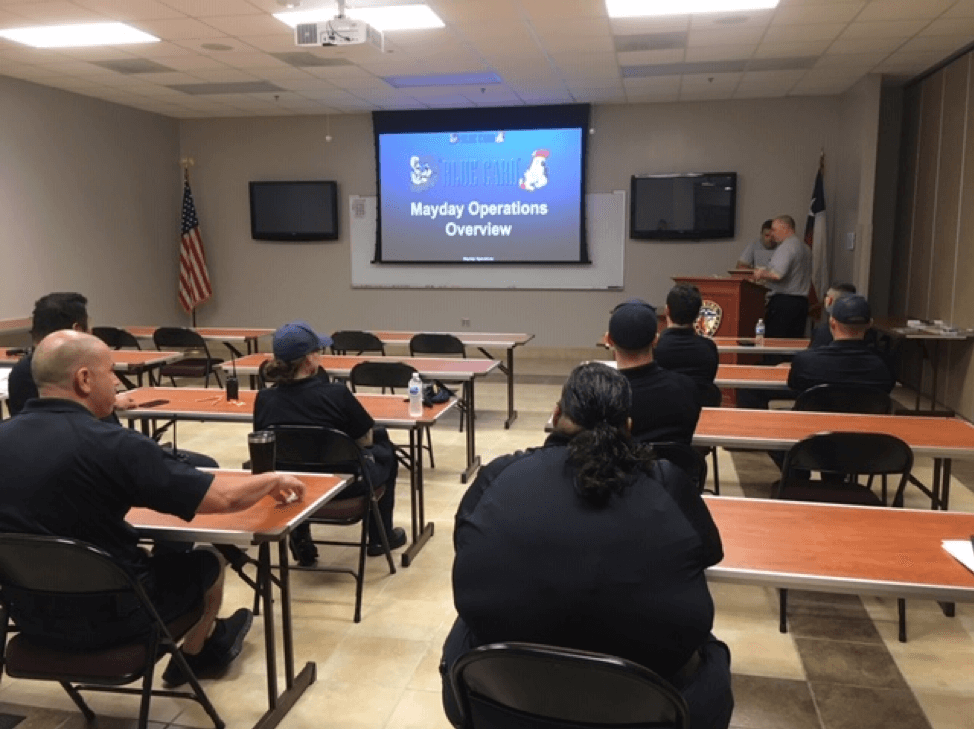 (Photo Credit: Tyler Mowery)
In addition to preparing for an emergency, citizens can also help minimize the risk of a mayday situation.
"Fire Prevention and Education has been a large area of discussion for many years now within the fire service," Ruple added. "Some simple steps could be becoming more educated on fire safety, having a plan in place for when a fire occurs, adding/checking smoke detectors, reducing the potential fire load in your residence (nationally known as a hoarder house) and just being more aware of possible fire situation."
Silvey adds yet another way to keep every safe at a fire scene.
"Don't re-enter your home to grab any valuables or animals, because you could become a victim yourself and we will then have to make an additional rescue attempt on another victim greatly complicating the scene," Brent said. "As silly or monotonous as it sounds, practice evacuation drills in your home with your family to make sure you are all familiar with how to get out of your house safely. Lastly be sure that all of your fire alarms are kept up with, change batteries as needed and remember that they need to be replaced every 10 years."
Spring native Tyler Mowery is a senior mass communications student at Sam Houston State University. Tyler is spending the summer as a Spring Fire Department Community News Writer. During the school year, he reports for The Houstonian and serves as a volunteer firefighter for the city of Huntsville.