We want YOU to be a vital part of planning Spring Fire's Future

Your Safety is Our Mission
We want YOU to be a vital part of planning Spring Fire's Future
Spring, Texas – Spring Fire's 70th Anniversary year is the perfect time to plan what the rest of our first century will look like.
"As we look to the future, it's important to us that we hear from you," said Spring Fire Chief Scott Seifert. "In late August Spring Fire will be holding five community strategic planning meetings across Spring. As these vital discussions are all about your safety, we want to have these discussions with you."
Spring Fire has come a long way from 1953, several volunteers, and a homemade fire truck.
"Over the last decade, Spring Fire has transitioned from a predominantly volunteer department to a career fire department that still has, and values the service, of volunteers who want to serve the community they call home," added Chief Seifert. "I started here as a volunteer in 1990 and it's one of the best decisions I ever made. It is an honor to serve my community."
Spring Fire provides fire suppression, emergency medical services, rescue services, fire prevention programming, CPR and First Aid Classes and so much more. Since 2019, all nine Spring Fire Stations are staffed 24/7/365. Spring Fire recently held the groundbreaking for the W.W. "Cotton" Weaver Training Center.
As we move into the future and face new risks and challenges, your safety remains our mission and we want to know from you how we can better impact your life.
Spring Fire Community Strategic Planning Meetings
August 2023 Meeting Schedule:
Monday, August 21
7–8 p.m.
Spring Fire Station 74
23803 Aldine Westfield Road, Spring, TX 77373
Tuesday, August 22
7–8 p.m.
Spring Fire Station 70
22306 Springwoods Village Parkway, Spring, TX 77389
Wednesday, August 23
7–8 p.m.
Spring Fire Station 75
3975 FM 2920, Spring, TX 77388
Thursday, August 24
7–8 p.m.
Spring Fire Station 77
2900 Cypresswood, Spring, TX 77388
Saturday, August 26 1–2 p.m.
Spring Fire Administration Building
656 E. Louetta, Spring, TX 77373
We'll see you there!
###
For more information, please contact:
Tracee Evans
Communications Director
Spring Fire Department
281-951-7065
Tracee.Evans@SpringFD.org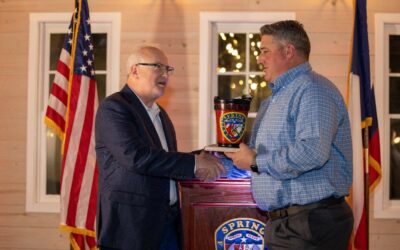 Six Spring Firefighters received major honors on Saturday night at the 2022 Awards Banquet. Fire Chief's Award – John Nanninga Part-time firefighter John Nanninga, who first joined the Spring Fire Department as a volunteer in 1999, was honored with the Fire...