It's All About the Blocking
In football, 'blocking' refers to a move where one player uses his body to obstruct another player's movement on the field. In theatre performances, every move an actor makes from walking to sitting down is called their 'blocking'. Writers think of 'blocking' as anything keeping them from putting words on a page.
However, when it comes to emergency scenes, blocking has a different meaning. Blocking is the term for when fire and law enforcement departments use emergency vehicles to block accident scenes from oncoming traffic.
Protecting an emergency scene is critical.
Popular Mechanics magazine ranks Interstate 45, which bisects Spring, as the most dangerous road in the United States. Firefighters, paramedics and law enforcement officers face that danger every time they respond to an accident.
Emergency vehicles turn on their lights to deter oncoming traffic and Texas Law does require drivers to move over or slow down around accident scenes, but too often tragedies still occur. From 2000-2013, an NFPA study showed that over 60 firefighters had lost their lives when struck by another vehicle while responding to an emergency call.
In June of this year, four firefighters were injured when a car crashed into their fire engine while they were blocking traffic at an accident scene. Their fire engine also sustained serious, and expensive, damage. Instead of using fire engines for blocking traffic, the Spring Fire Department does things differently. Spring deploys a Heavy Utility Truck (HUT) to freeway and other major accident scenes.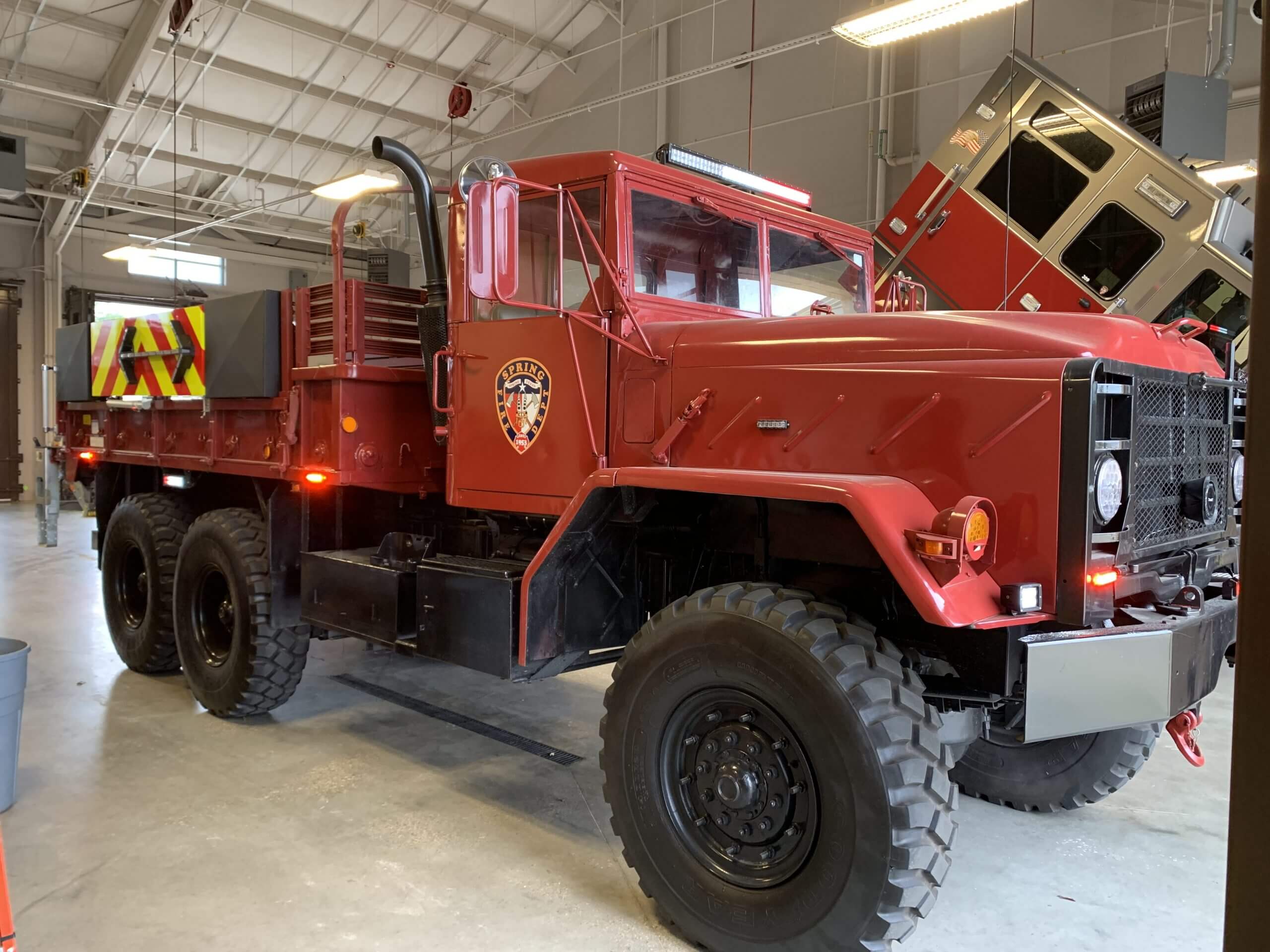 (Photo: Spring Heavy Utility vehicle)
Purchased in 2018 to assist with high water rescues, the Spring Fire Department's two army surplus vehicles have already paid for themselves.
"High water events are rare, so we had brainstormed another use for the HUTs so they wouldn't sit idly waiting for another Hurricane Harvey moment," said Spring Fire Assistant Chief Robert Logan. "It was never a matter of if one of our emergency vehicles would be struck at an accident scene, but a matter of when."
The 'when' happened August 31, 2020 when a 1999 Toyota Pick-up truck broadsided HUT71 while it was blocking a motor vehicle accident scene on Interstate 45.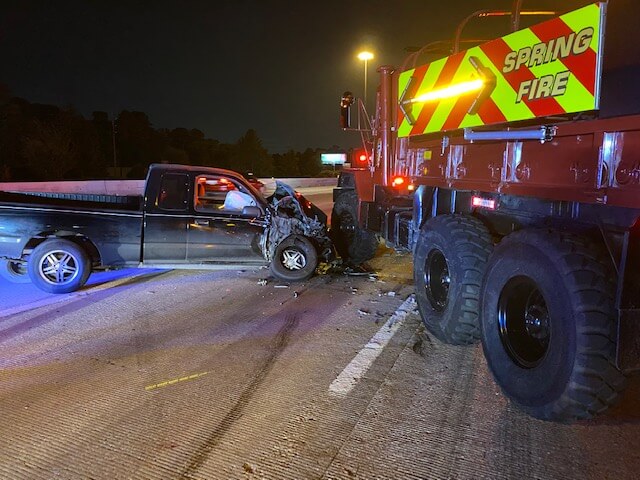 (Photo: 1999 Toyota Pickup strikes Spring Fire HUT71 on Interstate 45 southbound near Cypresswood on August 31, 2020.)
The pick-up was totaled, but the HUT is already back protecting accident scenes.
"The HUT's driver's side front drive axle, rim and tire were damaged, as well as the fuel tank and its mounting brackets," said Spring Fire's Emergency Vehicle Technician (EVT) Red Haney. "The HUT was repaired and back in service within a few days and for a few thousand dollars."
The firefighter driving the HUT was wearing his seatbelt per Spring Fire safety protocols. Neither he, nor the driver of the pickup, was injured.
HUT70 and HUT71 are strategically positioned at fire stations near the Grand Parkway and I-45 and between I-45 and the Hardy Toll Road. Most of the major accidents in Spring occur on these freeways. Spring firefighters are trained to drive the HUTs and utilize their lighted and reflective signage to help steer traffic away from the accident scene.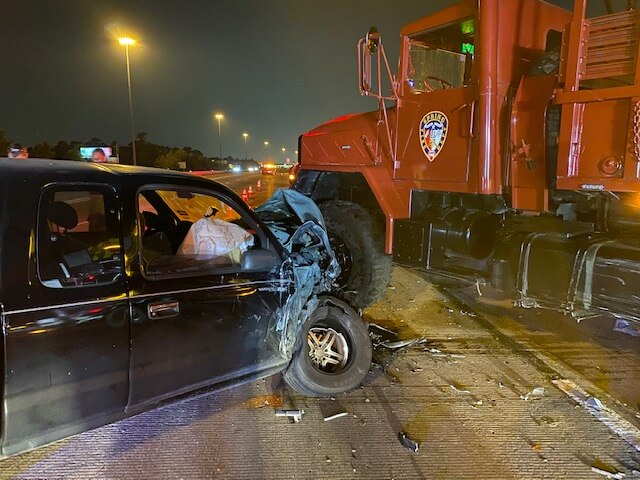 (Photo: 1999 Toyota Pickup strikes Spring Fire HUT71 on Interstate 45 southbound near Cypresswood on August 31, 2020.)
A similar accident would have done much more damage to a fire engine or aerial vehicle. "Because a fire truck's body is closer to the ground that type of impact could have cost upwards to, or more than, $100,000," added Haney. "That doesn't even take into account several months of repair time and an $800,000 fire engine or $1.3 million ladder truck being out of service to the community."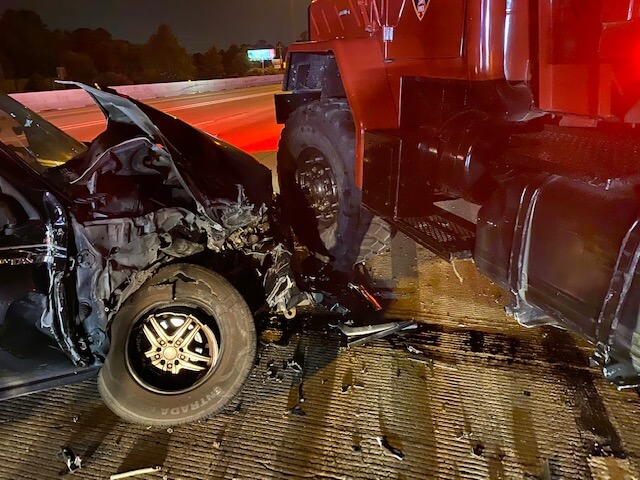 (Photo: 1999 Toyota Pickup strikes Spring Fire HUT71 on Interstate 45 southbound near Cypresswood on August 31, 2020.)
While fire engines cost more than most homes, the HUTs cost less than $50,000 apiece fully equipped. Purchased from a military equipment company, tuned up and repainted, the Spring Fire Department added additional lighting, signage, lift gates and traffic cone storage for safety purposes.
"The HUTs help protect the safety of our team, citizens involved in accidents, and the investment the taxpayers have in our emergency response vehicles," concluded Logan.
Photos courtesy of Spring Fire District Chief Chris vonWiesenthal, EVT Red Haney and firefighters Austin Delaplane and Michael Villarreal.