Safety Drives New Uses for Heavy Utility Vehicles
by Tyler Mowery
In an effort to protect lives and apparatus on scene, the Spring Fire Department will deploy a heavy utility vehicle for freeway accident calls starting June 1.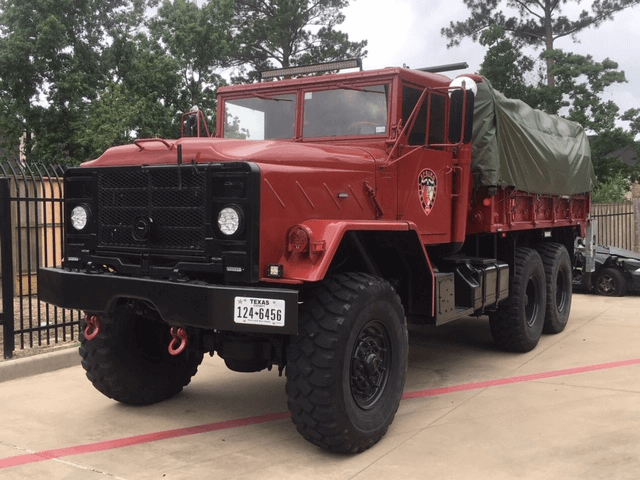 (Tyler Mowery)
Across Texas and the nation there have been numerous incidences of drivers colliding with fire equipment and injuring emergency responders working traffic accident scenes.
Growing safety concerns have prompted many cities in the State of Texas to start using either decommissioned fire equipment or heavy utility vehicles as "upstream" blockers to protect the accident scene by blocking freeway lanes.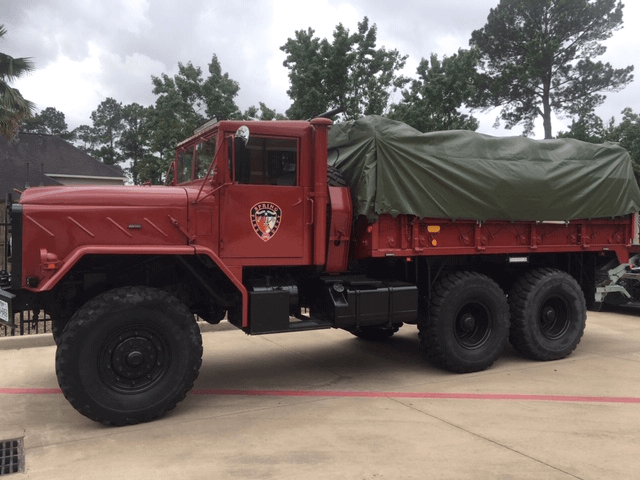 (Tyler Mowery)
Spring Assistant Chief Robert Logan says vehicles purchased for use in high water rescues will now also protect lives and property.
"Currently, as common practice with other fire departments, we use another firefighting apparatus as the additional unit to block the scene," Logan said. "If an oncoming motorist struck the apparatus, we could lose it for months in repair, or have it damaged enough to be totaled, and then have to wait 9-12 months for a new fire engine to be built."
This means that if an Engine, Ladder or Tower is damaged beyond repair, the department would be without that apparatus, negatively affecting response times.
By contrast, damage to a heavy utility vehicle would be very minimal if any and those vehicles cost much less to replace than a fire engine.
"The cost of a new high-water truck is around 30-40 thousand dollars completely outfitted, compared to a new fire engine at 700,000 dollars or a new Tower or Rescue at $1 million plus," Logan added.
This additional use is a practical one. "We did not want the high-water vehicles to just s
it stagnant waiting for the next flooding event," Logan said. "It could be months or even years before we have our next one, and having the unit just sit there without any other uses didn't make sense to us."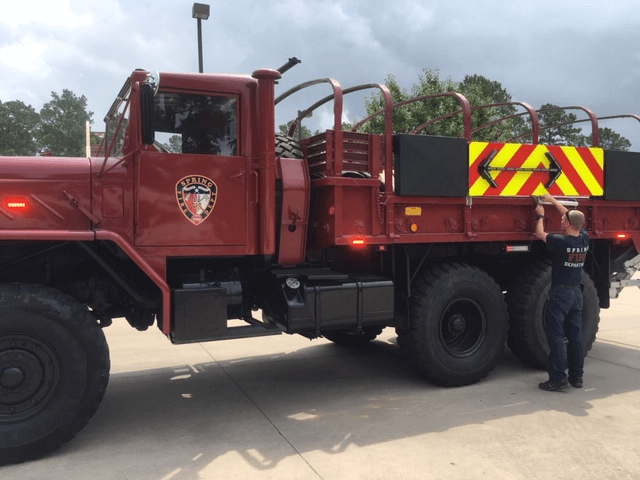 (Tyler Mowery)
Emergency vehicle technician Red Haney further explained the modifications made to the heavy utility vehicles.
"To aide in the loading and unloading of people during floods, a 3000lb capacity lift gate was added to the rear of the truck as well as a swing out ladder that doubles as a tailgate," Haney said. "We added emergency lights all the way around the vehicle for visibility. We also installed a siren and PA system."
Since the trucks are used for freeway accident responses, several lighting updates have been made as well.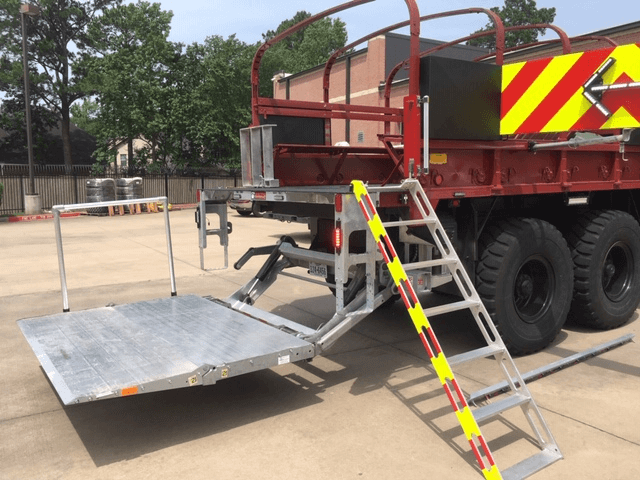 (Tyler Mowery)
"The trucks have LED flood lights on the front and both sides for nighttime operations. Haney said. "For freeway blocking operations, we added swing out arrow boards on both sides of the truck to direct traffic. The arrows also double as scene lighting. To keep our personnel comfortable, we installed an A/C unit."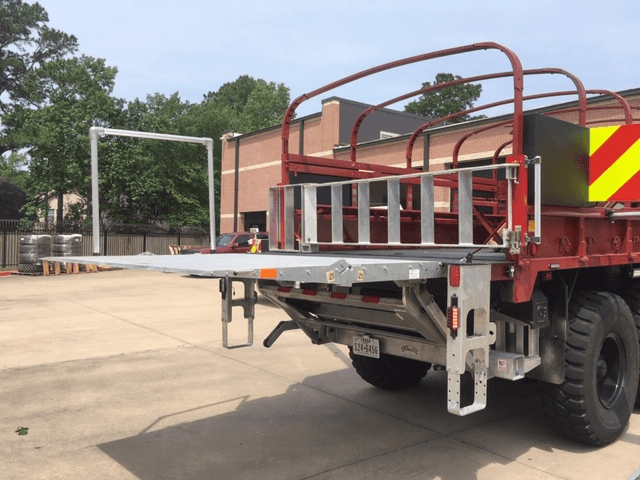 (Tyler Mowery)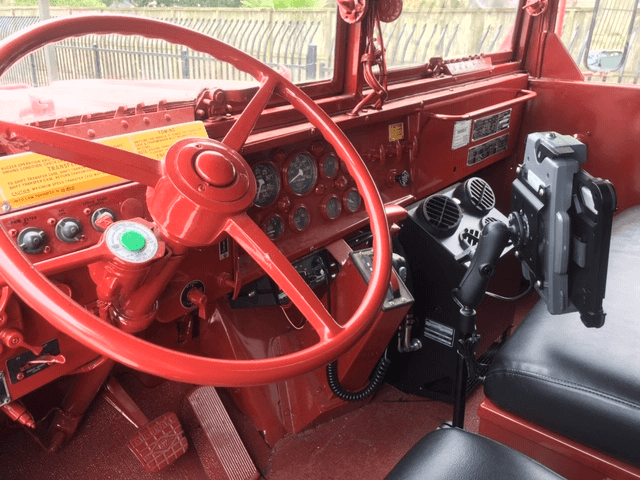 (Tyler Mowery)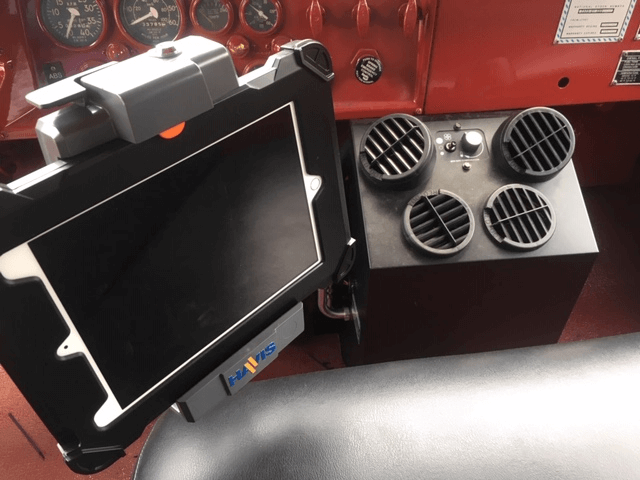 (Tyler Mowery)
By adopting the practice of using heavy utility vehicles as upstream blockers for freeway response, Spring will be more efficient in protecting lives and property.
More information on freeway incidents that informed this change:
Hillsboro, TX – March 2019
• According to the Texas Department of Public Safety, four firefighters and a Hill County Sheriff's deputy were responding to a car fire on I-35 when a Tennessee band's tour bus crashed into the back of the fire engine. Since the fire engine was blocking the scene, no first responders were hurt, but the tour bus driver had to be extricated by the firefighters.
More here: https://www.kxxv.com/news/local-news/hillsboro-fire-truck-hit-while-working-incident
Dallas, TX – November 2018
• According to Dallas Fire Rescue, a $1 million fire engine was totaled by a suspected drunk driver while blocking traffic on I-30. The apparatus was struck twice on the same night just hours apart. While a driver was critically injured, no firefighters were hurt. The department then decided to use decommissioned apparatus as blockers to protect firefighters and the trucks which are the citizen's investments, rather than auctioning them off.
http://www.fox4news.com/news/dallas-fire-truck-hit-twice-on-halloween-night
Houston, TX – August 2017
• A driver struck the back of a fire engine on I-45 North while they were working a three car accident during the early morning hours. This caused the north freeway to be shut down for three hours.
https://www.firerescue1.com/fire-products/fire-apparatus/articles/295202018-Houston-fire-truck-hit-while-blocking-highway/
Irving, TX – July 2015
• Three firefighters were injured when an 18 wheeler collided with a fire truck working a scene and the semi driver was killed. The accident occurred on highway 183 while the truck was blocking traffic waiting for a wrecker. "We can replace a truck, we can't replace firefighters," Assistant Fire Chief Rusty Wilson said. In June 2018 Irving became what is believed to be the first city of its kind to implement using decommissioned trucks as blockers.
https://www.nbcdfw.com/news/local/Irving-FD-the-First-to-Deploy-Blocker-Trucks-486665591.html
Spring native Tyler Mowery is a senior mass communications student at Sam Houston State University. Tyler is spending the summer as a Spring Fire Department Community News Writer. During the school year, he reports for The Houstonian and serves as a volunteer firefighter for the city of Huntsville.