Serving Country and Community
Spring firefighters share memories from military service in honor of Veterans' Day
by Hannah Falcon
Serving their community, putting their life on the line for others, selflessly going headfirst into dangerous situations. This is the job description for both firefighters and military personnel.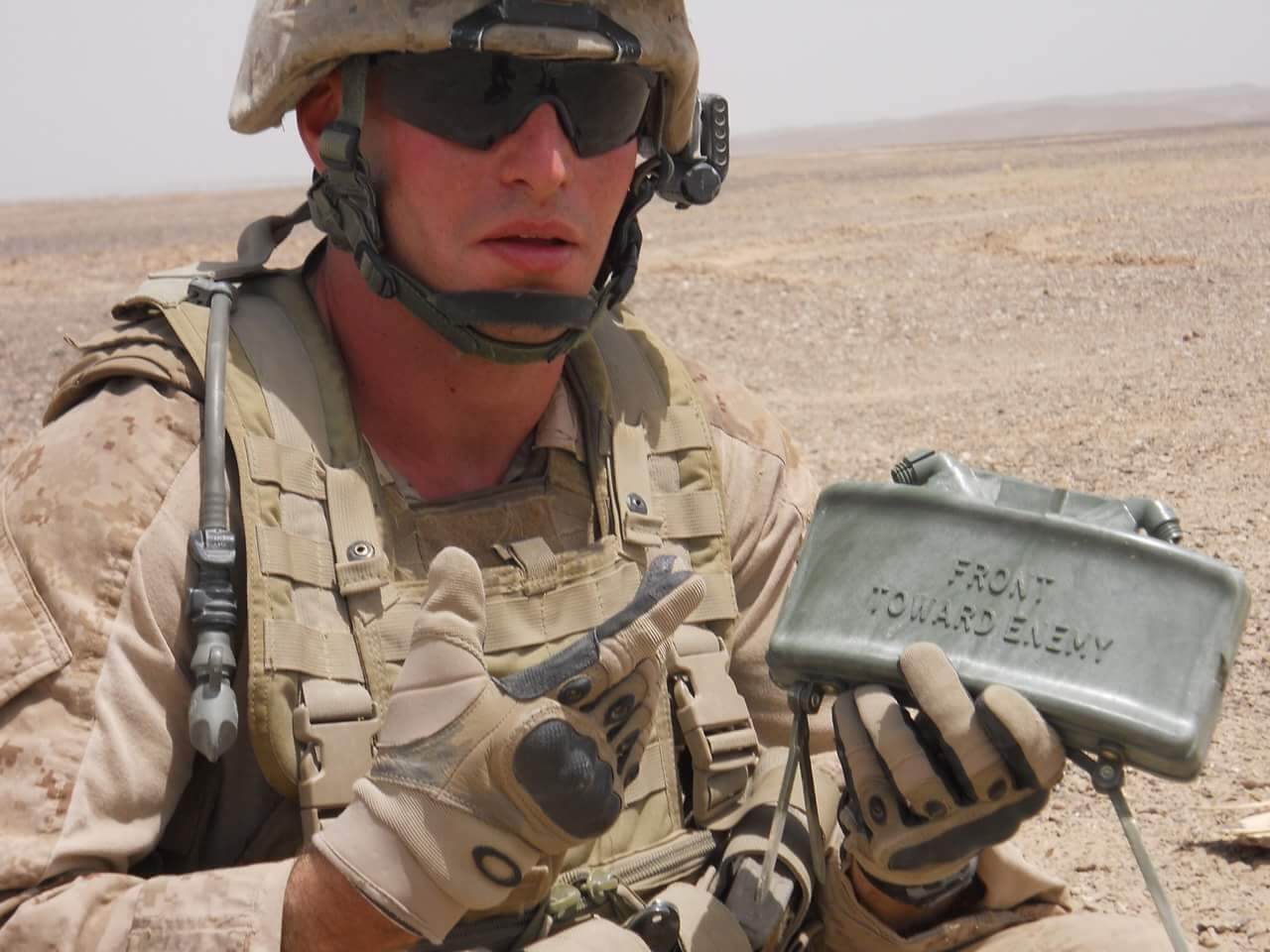 (Spring Firefighter Jordan Hendricks deployed in the Middle East.)
Dozens of Spring Fire Department firefighters served in the military.
Apparatus Operator Kevin Jennings sees the similarities as a reason he decided to become a firefighter after six years in the U.S. Navy.
"A couple years after I left active duty is when I became a firefighter," Jennings said. "It was a combination of things. One was wanting to serve the community on a more local level, to do things that I could see a direct benefit to society and similar types of people I wanted to work around."
One big similarity, Jennings pointed out, is the camaraderie. Much like firefighters bond with their crew, those in the military form strong bonds with the people in their units.
"At the fire station we have a crew we're together with all the time." Jennings said. "Whenever I was in the Navy, I lived with three other guys and we spent a lot of time together, built good relationships together and I knew I could count on them."
Apparatus Operator Jason Randall also reflected on the strong bond formed between people that through something traumatic together. Randall served in the Navy for five years, before attending university and graduate school. After serving as volunteer firefighter, he decided to switch from academia to full-time firefighting because of that strong camaraderie.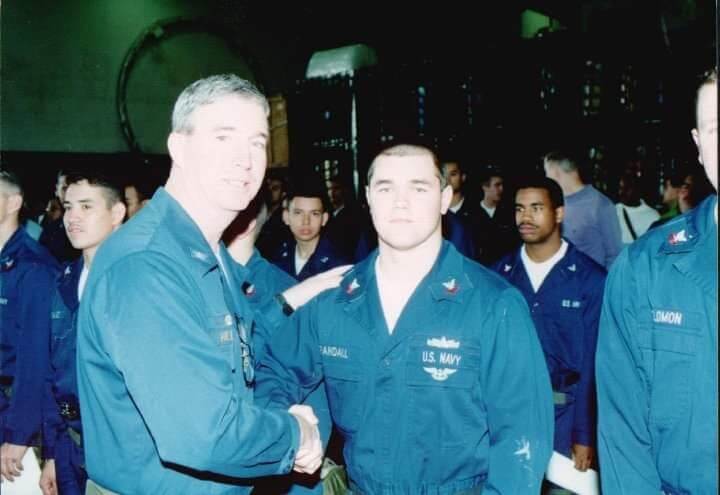 (Picture courtesy of Jason Randall, taken onboard the USS Constellation in the Arabian Gulf)
"Being in the military you create these relationships with people where I have literally put my life in somebody's hands and they have put their life in mine, so I was looking for people like that again," said Randall. "I had done the volunteer firefighter thing while I was working at university as a way to serve, and I got a glimpse into it and I felt more connected with the full time firefighters."
Although serving in the Navy is far from easy, emotionally and physically, Randall recalls his time fondly. "I don't regret it at all, it was one of the best things I ever did, but it was tough," Randall added. "I lost friends, but it's something I think a lot of people should think about doing."
Volunteer firefighter Fernando Martinez joined the U.S. Marine Corps right out of high school in part to pay for college.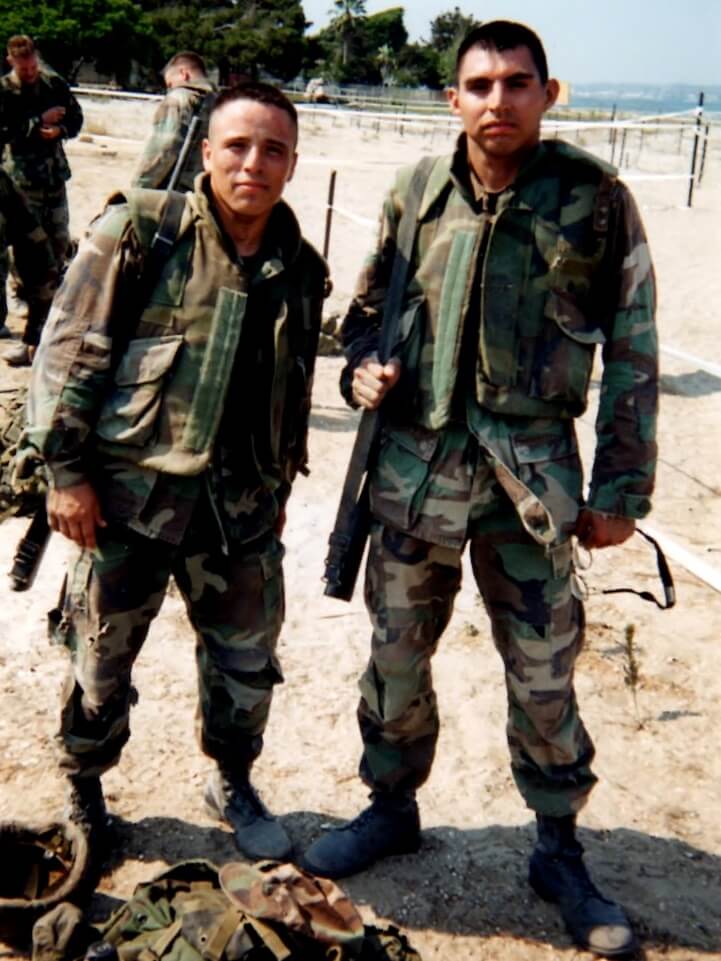 (Pictured: Fernando Martinez (right) and a Marine Corps buddy.)
A schoolteacher and volunteer firefighter, Martinez appreciates the ability to work around his schedule while still serving the community just as he is thankful to the Marines for making him a more disciplined public servant.
"I volunteer on the weekends and I take my papers to grade, books to read and all that stuff," Martinez said. "Sometimes I have time to get it done and sometimes we're too busy. But as a volunteer I have some flexibility to make my own hours in case it's a report card week and I have too much to do."
The Spring Fire Department honors all its veterans throughout National Veterans and Military Families Month.
"I think it's wonderful that Veteran's Day is still celebrated and that we use this month to remember those who served," Martinez added. "There's so much that these people went through, and most people never see the behind the scenes."
Hannah Falcon is a senior telecommunication major at Texas A&M University, where she has served as a writer and Managing Editor for The Battalion. When not on campus, Falcon serves as a volunteer writer for Spring Fire's Community News.