Spring Opens Newest Fire Station
Spring Fire Department's brand new Station 75 with a solemn ceremony on Saturday, November 3, followed by a community celebration attended by over 500 people.
Spring Fire "started with a handful of volunteers and a homemade tanker truck back in 1953," Spring Fire Chief Scott Seifert, who has been with the department nearly three decades, told the crowd. "If you look around Spring today, 65 years later, it's amazing what has happened."
"This is an Emergency Services District that is always thinking ahead, always looking to the growth of neighborhoods and our business community and making sure that this community has state of the art equipment, state of the art responders, heroes, and our families can sleep safely at night and our businesses can work safely during the day because you are here," said U.S. Congressman Kevin Brady, who presented the station with a Congressional Commendation and a flag flown over the U.S. Capitol."
All five board members of the Harris County Emergency Service's District Number Seven were part of the ceremony. "As a board we ensure your tax dollars are spent for your protection," Board President Bob Schmanski added. "This fire station will help those firefighters answer that call."
After the uncoupling of the hose, Spring Firefighters pushed Ladder 75 into the bay signaling that Spring Fire Station 75 is officially open to serve the Spring community. The crowd was then treated to Barbeque from the Spring Fire Department Rafter 7 cooking team and cake and ice cream from HEB and Blue Bell.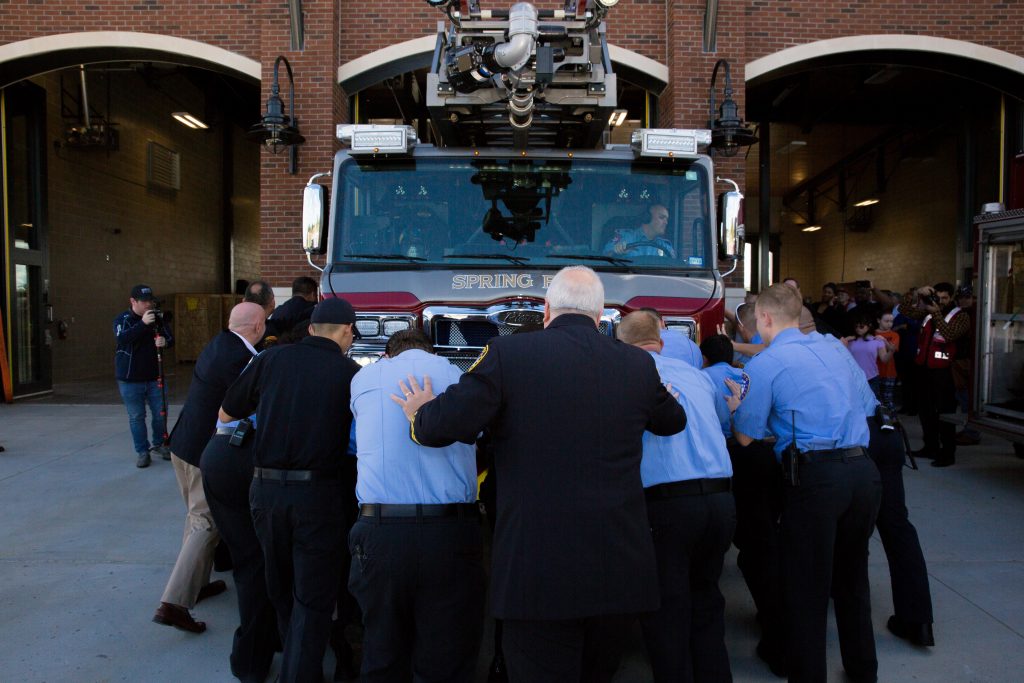 "The Spring Fire Department thanks our community sponsors, HEB, Blue Bell, the Klein-Spring Montessori School, Mid-America Mortgage and State Farm's Shari Edwards for sponsoring our grand opening and making it something truly special for our firefighters and the community we serve," added Spring Assistant Fire Chief Robert Logan.
Spring Station 75 is nearly 17,000 square feet. It has four apparatus bays and is designed to house two crews. The new station's state of the art equipment and technology is designed for 21st Century firefighting. Fulltime, part-time and volunteer firefighters will call this new station home while on duty.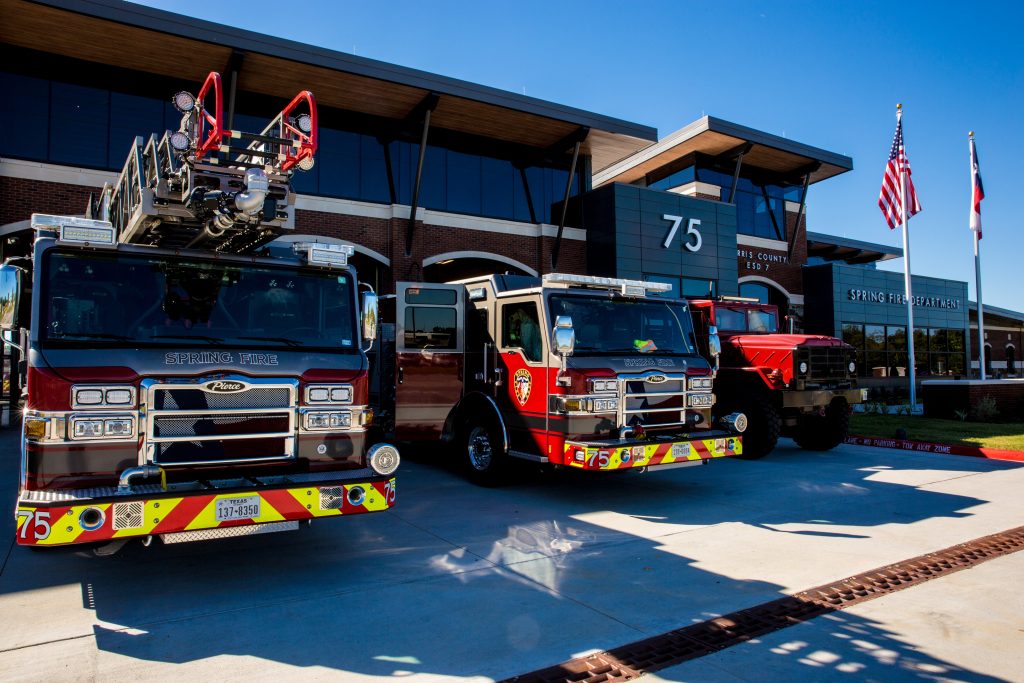 "The Spring Fire motto is the desire to serve, the ability to perform, and the courage to act," concluded Brady. "There is no doubt you serve, perform and act 24 hours a day, 365 days a year. Our community, our families, our businesses are safer and more protected because of your service."