The Spring Fire Department Appreciates our Dedicated Volunteers!
On April 29, 1953, a group of citizens formed the Spring Volunteer Fire Department. So, it is appropriate that National Volunteer Week happens in April. This month we get to celebrate our founders and all those who have taken up their mantle.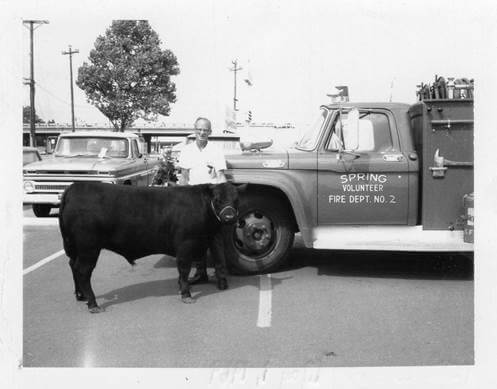 (Pictured: The Spring Volunteer Fire Department used to auction livestock to buy equipment and fuel.)
While our department has evolved into a combination department with fulltime, parttime and volunteer firefighters in our ranks, the dozens of volunteers who bring their time and talents to support this department are dedicated professionals that we are proud to have in our firehouses.
Until May 1997, all Spring firefighters were volunteers.
John Bradley started as a Spring volunteer in 1985 because he likes "giving back to the community". His fire department story started when he heard an explosion and looked out the window to see a garage on fire. He 'stumbled' into action and got the family out of house.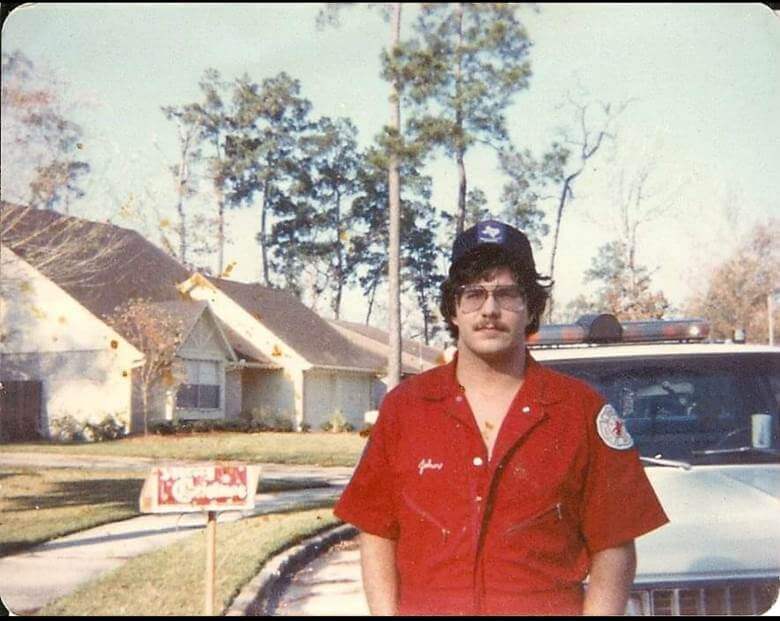 (Pictured: John Bradley in the Spring Volunteer Fire Department jumpsuit of the 1980's.)
"It's like you find your calling right then," said Bradley. "This is what you need to do, help other people." When the Spring fire crews arrived, Bradley watched them extinguish the fire. The all-volunteer crew thanked him for his quick thinking and invited him to a meeting. From then on he was hooked.
"Once I got into the Fire Department, with the comradery and the constant responding to emergencies, I knew this was what I'm supposed to do," said Bradley who had thought about becoming a doctor. "Doctors can save lives, but we make that first intervention. If you don't have that first good decision on what needs to happen, everything goes downhill after that."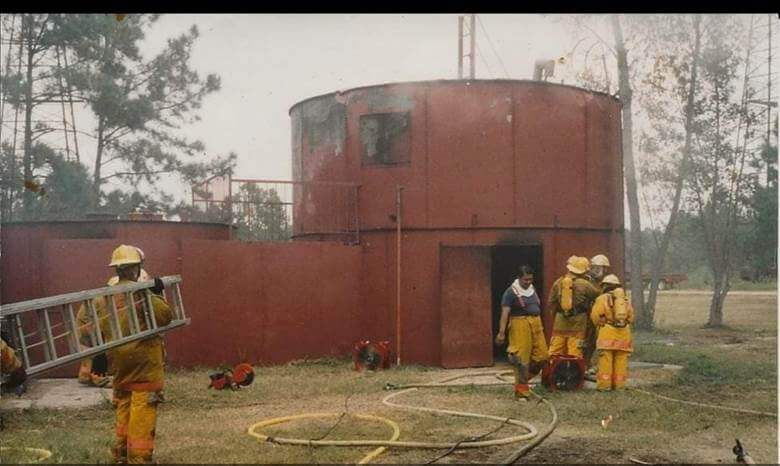 (Pictured: Spring Volunteers in Live Fire Training.)
Bradley has worked as a Paramedic offshore, in-flight and as a diver medic. He uses his paramedic skills in his full-time job with an insurance company, but "volunteering is a calling," he added. "It gets in your blood and it stays there." He currently serves as the Spring Fire Department's EMS Coordinator and he still carries an EMS kit in his personal vehicle.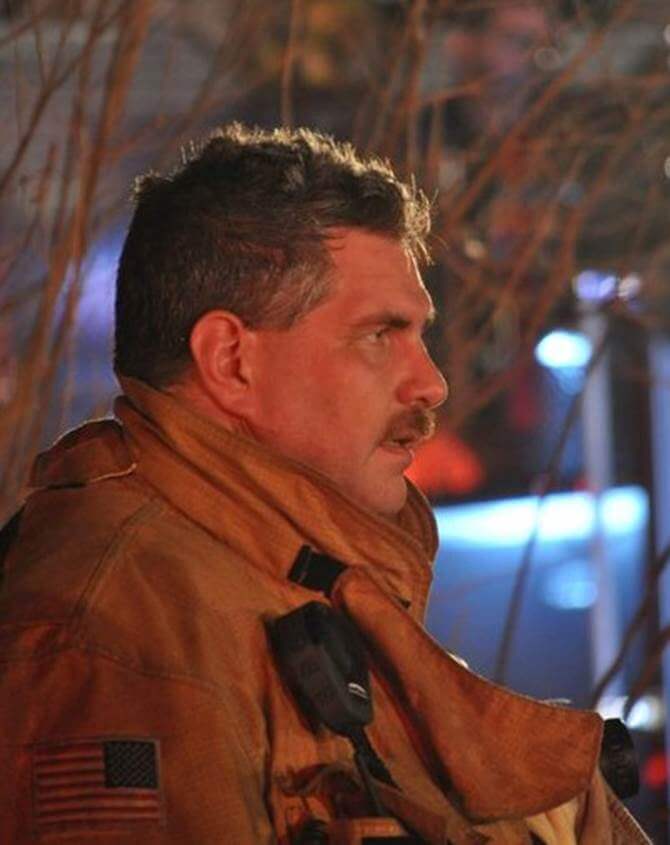 "Most of fire departments across the nation are volunteer departments," said Bradley. "It takes dedication. You have to understand what it's going to take out of you, but my life would be much less without the fire department, it's my second family."
Dave Corson joined the Spring Fire Department in August 2003 with many years of first responder volunteering under his belt. While working a fulltime job, Corson had already volunteered as a Cypress Creek EMS ambulance driver. He earned his EMT certification and kept studying. He became a paramedic in 2000 and started setting up education programs to teach CPR.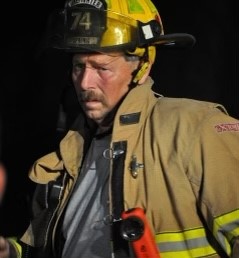 (Pictured: Firefighter Dave Corson)
"My love is teaching CPR classes." Dave Corson has been teaching CPR at the Spring Fire Department for most of the last decade, but that's not all Corson does. "My other responsibility is cascade, taking care of all the breathing apparatus the firefighters use."
Being a volunteer firefighter "is a big commitment." Corson is clear that "it's not just a t-shirt." Volunteers must want to give back, have the physical ability, and "be ready for hard work, because you are going to learn.
At age 65, Corson turned in his firefighting gear but remains committed to firefighter safety and teaching others how to save lives.
"I never grew up wanting to be a firefighter," said Troy Hahn. "I wanted to be carpenter like my dad." In high school Hahn's love was robotics and automation so he pursued a degree in manufacturing engineering. He found industry wasn't for him. When he moved to Spring nearly a dozen years ago, his wife spotted a flyer for volunteers and he soon started volunteering at Spring Fire Station 77. After he "found the fun and the brotherhood" he fell in love with being a firefighter, "It was meant to be."
In "being part of something greater than myself, that's when my life changed," said Hahn. The late District Chief Babendure was such "an insurmountable inspiration" and made Station 77 "so much fun" that when Hahn briefly left, "'Babs' brought me back." And Hahn hasn't left since.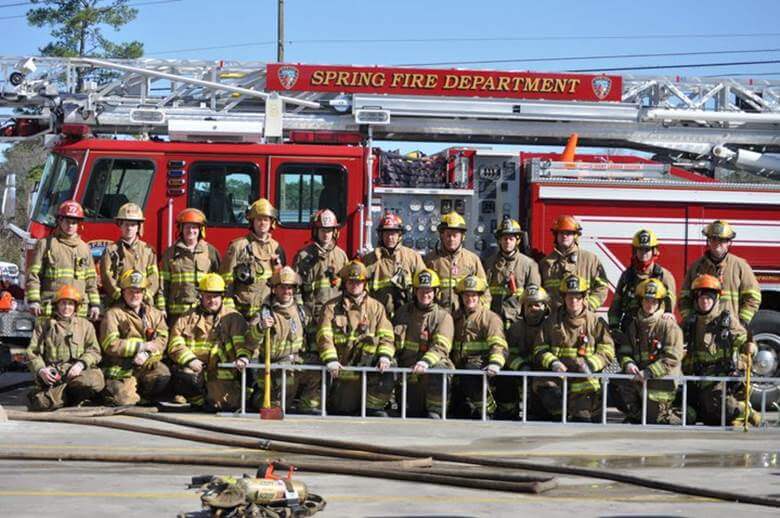 (Troy Hahn is pictured on the far left in the front row. The late District Chief Shawn Babendure is fourth from the left on the front row.)
Having now spent the better part of the last decade as full-time firefighter at the South Montgomery County Fire Department, while still volunteering at Spring Fire, Hahn encourages others to find their passion, "if you have a strong passion, you are going to pursue it with all your heart. It is the best job in the world. There isn't anything better."
Hahn added it helps when your family is 'extremely supportive' because you will miss holidays and celebrations — or you will have them at the firehouse. To his three kids, he has always been a firefighter, "when they see daddy helping people that starts to establish the moral foundation for them and I think it's a great influence for all of the family."
Hahn will not 'sugarcoat' what it takes to be a fulltime and volunteer firefighter, because to him when any fire crew shows up to an emergency "everyone should be prepared."
"Training, skills, smarts, hard work — it's going to take time, dedication and a certain fearless aspect and drive to eat right, work out and bring your body to a top physical peak so you can give everything you can." He talks to potential recruits about how it is and what they are getting themselves into — confined spaces, putting on air packs, how much gear weighs and what it really takes in man hours.
"It starts with good foundation of knowledge," Hahn added. "We are looking for quality and a heart. That days of t-shirt firefighters are over."
Fernando Martinez is a Klein ISD teacher who will never forget one long weekend in 2009. On Columbus Day, he filled out an application to become to become a Spring firefighter and started his training the very next evening.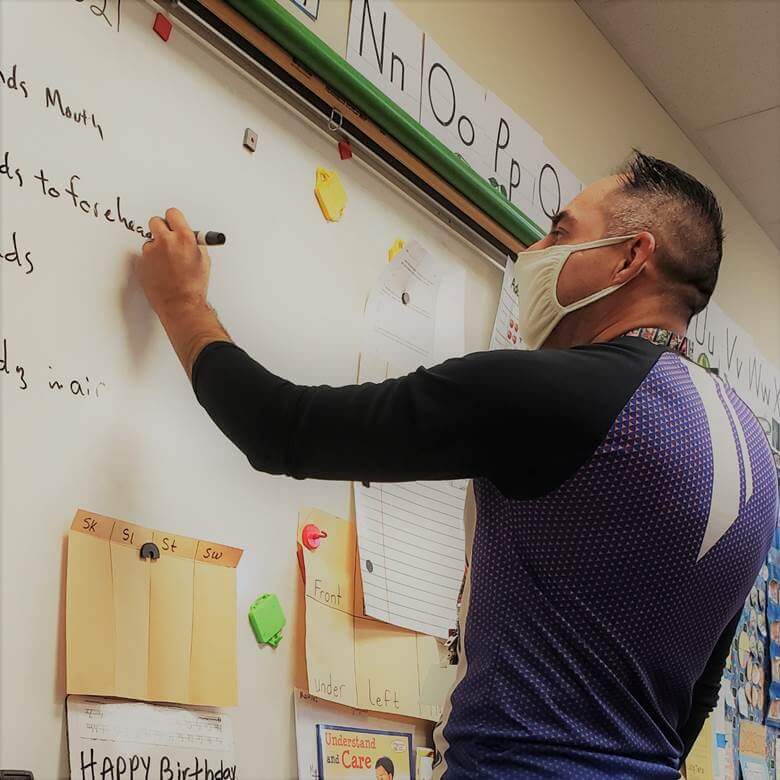 (Fernando Martinez pictured in his Klein ISD classroom.)
While he remembers the days of carrying pagers to every family function, he likes taking shifts now. Martinez also likes what the department has accomplished in the last decade, "response times are quicker now. People notice we get there quick."
Homeowners don't ask the firefighters putting out the blaze if they are volunteers or paid, but Martinez sees more attention on all firefighters these days. He appreciates it when people say "Thank You for your service" and enjoys showing off the fire trucks and answering their questions. When they ask about volunteering, he tells them firefighting "takes time and effort and you have to dedicate yourself to it."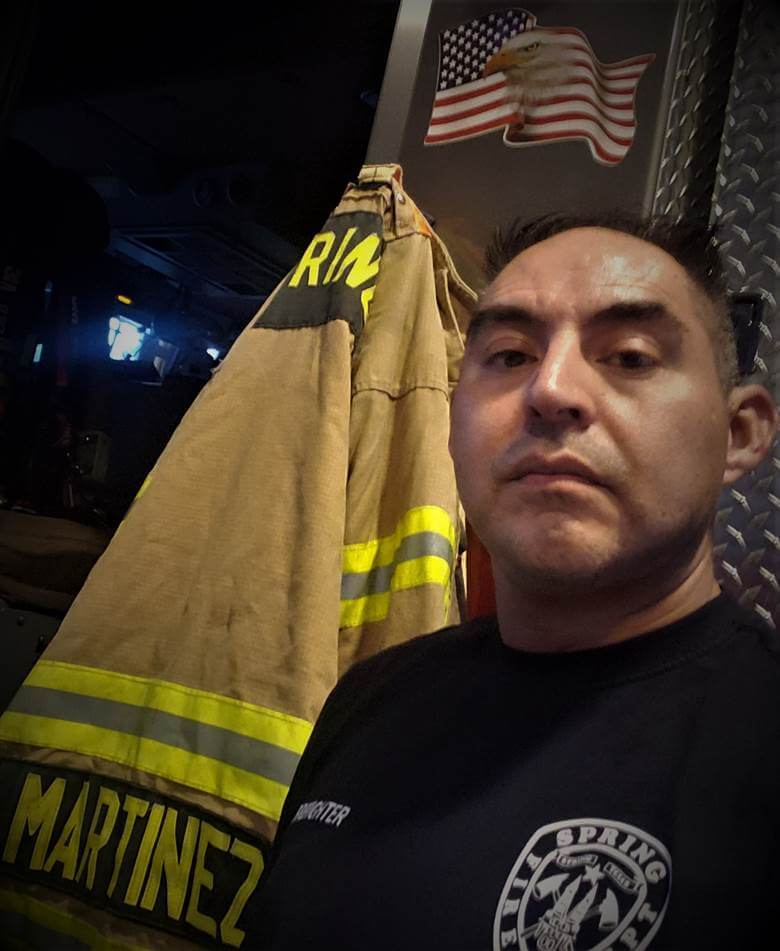 (Pictured: Spring volunteer firefighter Fernando Martinez)
As an active member of his church and the Knights of Columbus, this teacher and former military man says he "felt the dedication to service when I first joined and as time goes by the organization is even better." Yet, it is that service to others that keeps him going.
For the last decade, Ron White, an IT Analyst for a major oil company, has spent his free time as a Spring volunteer firefighter. His journey started when a neighbor had a heart attack and he and friend went to help.
They joined the Spring Fire Department together. The friend left a short time later, White, who originally applied to be a volunteer as a teenager, went on to be one of Spring Fire's busiest volunteers making over 420 calls in one year.
His fondest memories are of being one of Station 77's three musketeers, which included the late Chief Babendure and former SFD Lieutenant Tyler Gardner. "The guys became my family." One fire station sign said it all for him. "This is not a fire station. This is a fire house. We're family."
It is not a one to two hour meeting a week fire service anymore. It is a minimum of 48 hours a month staffing stations and working on fire crews. "You've got to want to do it," said White. "It does take away from family time. It's definitely a commitment." "We need to be trained to the same level as the fulltime firefighters," but White added "when someone recognizes you as someone who came and helped them it's a nice feeling."
Also, part of the team for the last decade is IT Application Specialist Melvin Rubio who has gone from filling out an application not knowing anything to being a Fire Captain.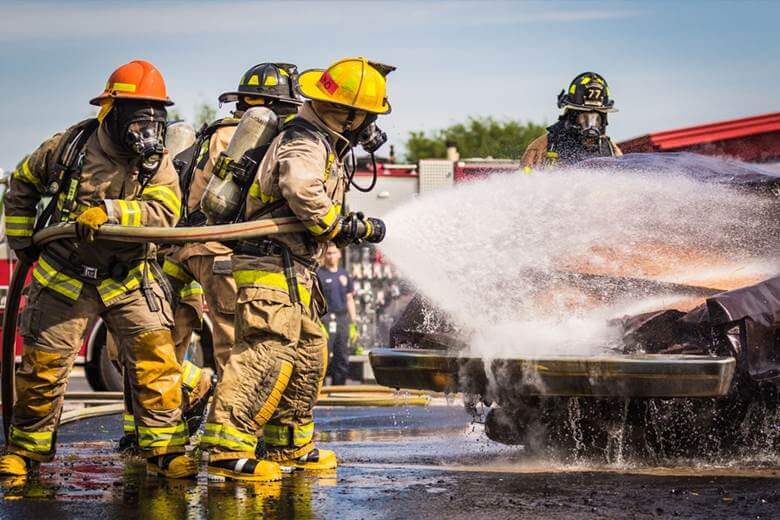 (Pictured: Spring Fire volunteers training on a car fire.)
"As a kid I thought firefighters were awesome," said Captain Rubio. "I looked up to them." While he says his family comes first, he enjoys the fire service which is "now like a part-time job." Serving makes him push himself, and he proudly stated, "the volunteers we have now are pretty solid, strong."
His seven-year-old daughter has been a fire kid from birth and his insurance agent wife helps fire families with all kinds of questions.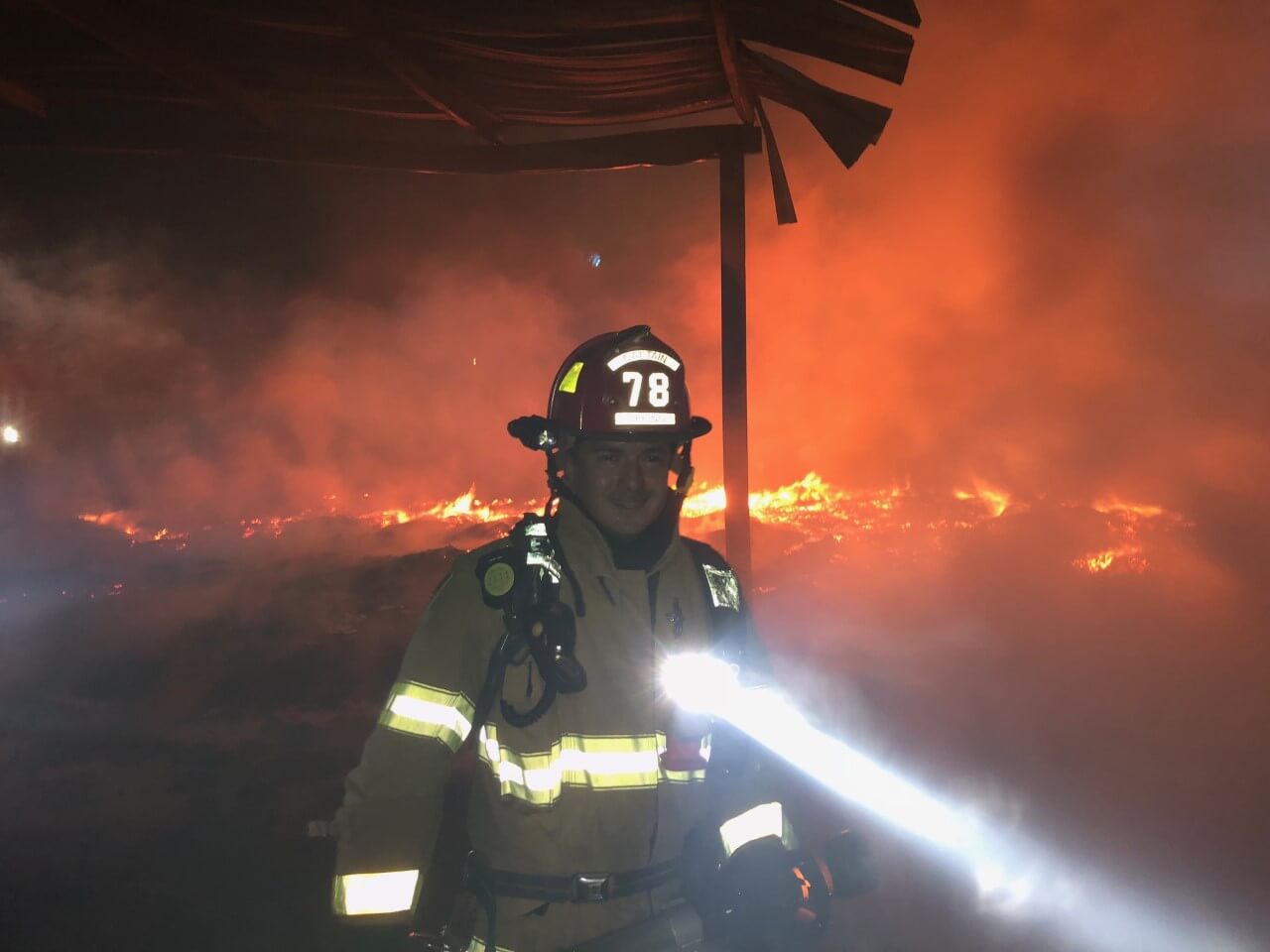 "Don't think short term," is what he tells new volunteer recruits." There is a lot to do and there are no dull moments. You are always busy. Learning never stops." He is also proud when volunteers make the transition and become career firefighters.
But the personal benefits and the benefit to the community keep him going as a volunteer.
"A huge benefit is the Spring volunteer firefighter pension," asserted Rubio. Volunteers save "money for the department and are a bonus for the taxpayers."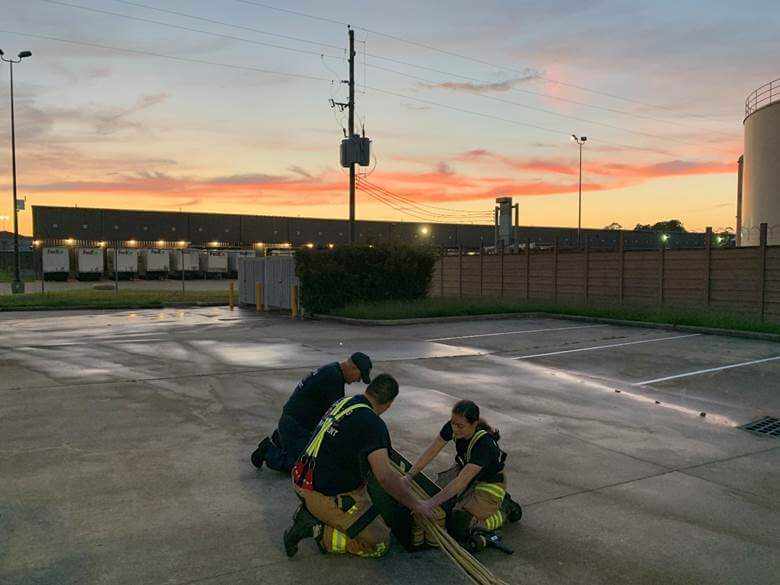 (Pictures: Spring volunteer firefighters rolling up hose.)
Luis Arzate, and his friend and fellow volunteer firefighter, Austin Delaplane, are both working towards their goals of becoming career firefighters. Arzate, a moving company supervisor, joined in 2018 because after Hurricane Harvey "I wanted to help people."
Initially, he thought he would just help the department, but not fight fires. When a friend told him he would drop out, Arzate said "hold my beverage." Because "helping people is my calling", he has now finished his Texas Commission on Fire Protection (TCFP) studies and is currently in Emergency Medical Technician (EMT) school.
Arzate is hoping to finish his career firefighter certifications with Delaplane so they can continue to serve together. Both want their careers to be here in Spring. "I've met the best people I could ever meet here. Everyone is extremely supportive. They are always up for helping me."
"I gave this a shot to see if it would pique my interest," said Delaplane who also joined in 2018 because he just wasn't sure where his life was heading after his U.S. Army service at Fort Sill. "It's the best thing. I like to help people," he added. "I like the comradery. I like fighting fire. This is what I've come to know and love."
Delaplane, who said the familiarity between the military and the fire service is something he likes, also admitted "It's a challenge and you challenge and push yourself in new ways." As he goes through the process to make firefighting his career, Delaplane knows where he wants to be, "this is the number one spot for me."
"I've always wanted to help people," said Leiah Veronesi. Being a mom to a growing boy is a full-time job, but Veronesi's goal is to be a fulltime, career firefighter. She says the Spring Fire Volunteer Academy she went through a couple of years ago "was everything I expected." "It wasn't easy academically or physically. It was challenging," added Veronesi, "but it was a lot of fun with the friends, family members really, that you make along the way."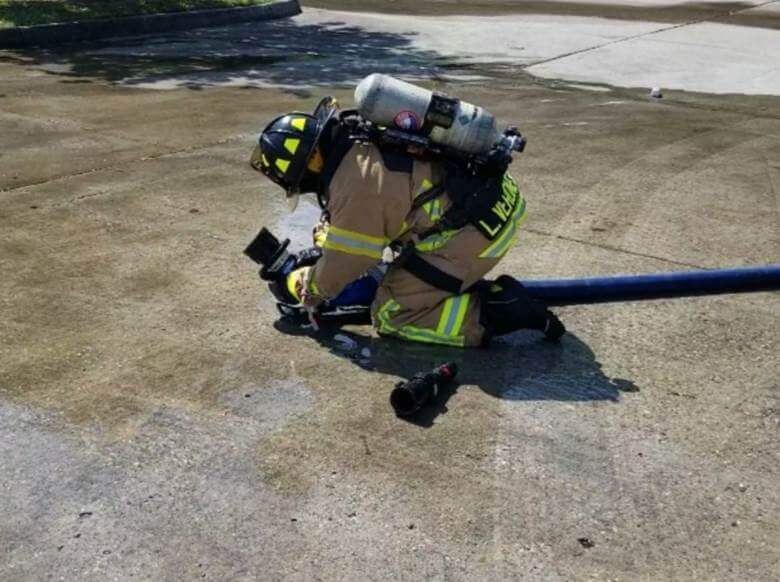 (Pictured: Spring volunteer firefighter Veronesi training.)
Veronesi works in a business that builds cremation boxes for funeral homes. She says after several years there her job is "definitely a conversation starter." She finds her balance by not procrastinating, knowing firefighting is her future and stocking up on Red Bull.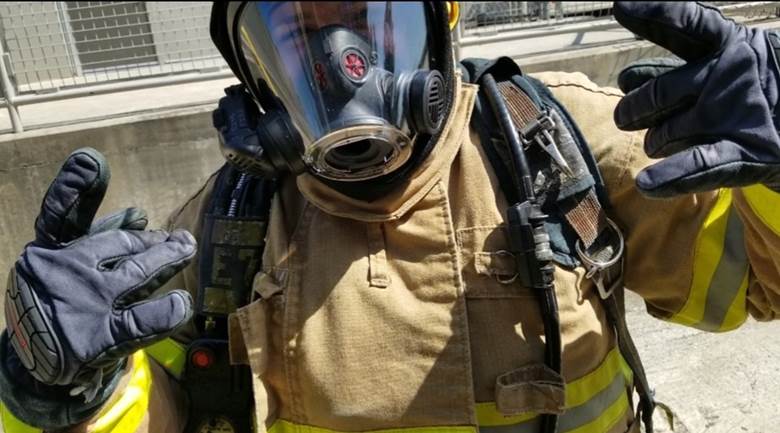 (Pictured: Veronesi in gear.)
"I like to go on calls," she added. "I enjoy the training and comradery. The overall environment is really fun to be around."
As the Spring Fire Department has fulltime firefighters born in France, Central America, Mexico and other countries, the volunteer ranks are also diverse.
Marc Corbeil comes to Spring from Canada via New England. As a Spring Fire volunteer for a few years now, Corbeil is the only volunteer on Spring's highly accomplished Rescue Team.
Corbeil is also the chair of the Lone Star College – North Harris Campus' mathematics department and a professor of mathematics who says his life changed when he was "volunteered to be a college advisor to an ambulance/rescue team." As a volunteer firefighter back in the 1990s who spent several years on an ambulance crew in Montreal, Corbeil puts his entire background to work instructing new firefighters, because "teaching is what I do naturally."
"Volunteering lets me interact in ways I can't in my professional job," added Corbeil who was in his rookie phase training during Hurricane Harvey. "I have become connected to the community in a different way. The training is very interesting. I get to do things I don't normally do — cut holes in roofs, put out fires – it all makes things more interesting."
And Corbeil is not surprised that Spring is very international, "volunteerism and firefighting tends to attract diverse people."
By his own words, Richard Demko is "an insurance guy" who has found another way to help others — and improve himself — as a volunteer firefighter. "I'm a better dad, a better husband, a better Christian, a much better professional, because of the experiences I've had at the fire department."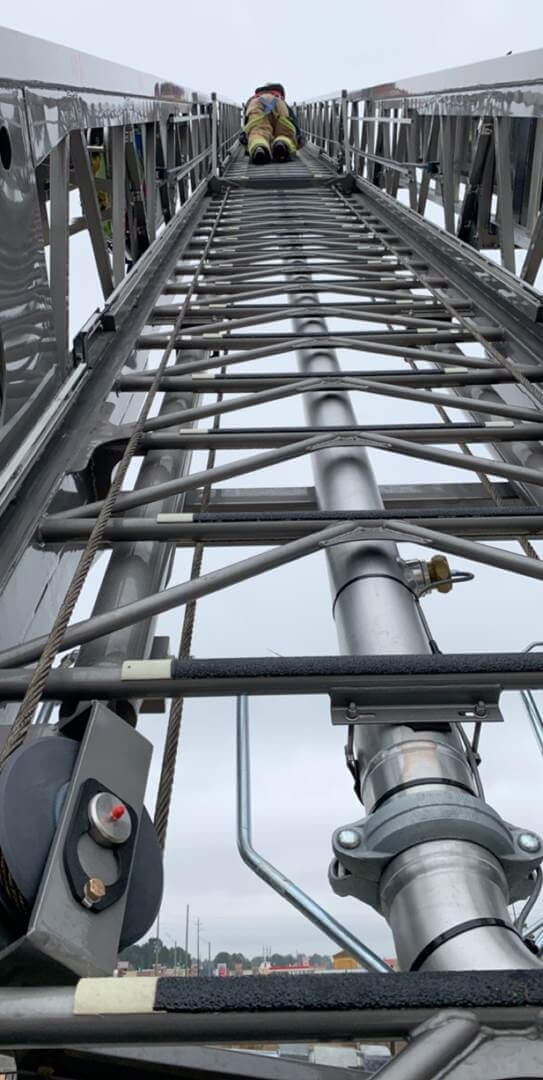 (Pictured: Demko climbing a fully extended Ladder 75.)
"My staff has tried to get me to tell people I can save your life and insure it," said Demko but the bottom line is "when bad things happen firefighters come into fix it."
While he says most people think volunteers have different responsibilities and are "on call", you never really know unless you get plugged in and the fire service is that plug "to serve and do something to force me to be fit and see the innerworkings of our community. "I'm not sure if the public cares if I am a volunteer or professional firefighter, they want someone to show up on a very bad day and get to work," added Demko. "That's what volunteers do."
Demko enjoyed the Spring Volunteer Fire Academy and called it an opportunity to learn something completely new from the ground up. "I'm blessed in my career that I have flexibility," said Demko who says the fire service has made him see how he leads, trains and mentors in new ways.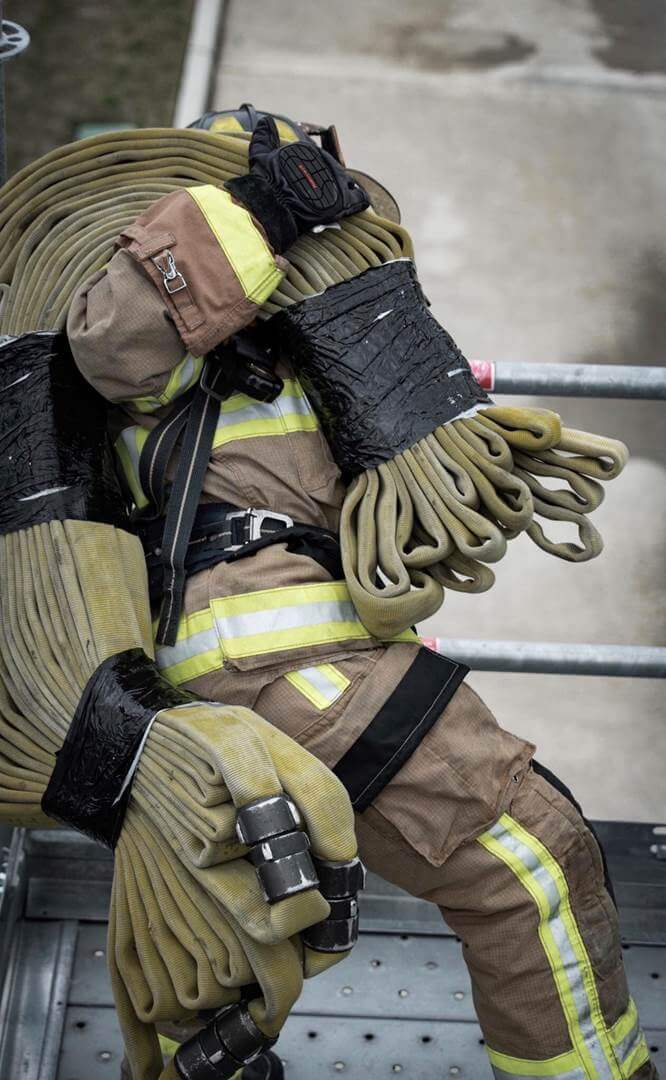 (Pictured: Demko training on hose carry.)
While signing up for shifts can take away from family time, he has signed up to work many events and holidays to relieve the career firefighters, "I see that as a role of mine, and it's cost effective for the community."
"When I first got involved, I wasn't aware of how engaged I'd need to be cerebrally," added Demko who has enjoyed learning how best to ventilate roofs, make entry into a building and extricate people from cars." He finds the mental challenge to be as much as the physical one, "there is more to it than put the wet stuff on the red stuff."
Spring's volunteer firefighters bring so much to the table, but they say this calling is worth every sleepless night.
"It's a lot harder than you think," added Delaplane who is also certain "it is worth it."
"Volunteering gives back more than the time you put in," added Corbeil.
"Every shift is an opportunity to help someone," Arzate added.
"People who really want to make a difference, this fills my spirit," concluded Bradley.
"I'm just glad I can help," said Corson whose best advice is to "Stay calm, breathe."
"I love the way the community looks at us and the way they treat us, added Demko. "When you are in a position where you get to give, it always seems to come back tenfold."
"National Volunteer Week runs from April 18-24, but our volunteer firefighters are important to our community 24/7/365," said Spring Fire Chief Scott Seifert who joined the department as a volunteer more than three decades ago.