Three Spring Firefighters Promoted
By Hannah Falcon
One of the most crucial and overlooked jobs for a fire department is making sure everything is in place on the apparatus. From safely driving fire trucks to and from scenes to operating and caring for every piece of equipment on the trucks, a fire department could not function without Apparatus Operators.
Monday evening, three Spring Firefighters were promoted to the prestigious position of Apparatus Operator. Rodger Hernandez, Santiago Eckardt and Steven Villarreal received their new badges in a promotion ceremony at the Spring Fire Department Administration building on Louetta Road.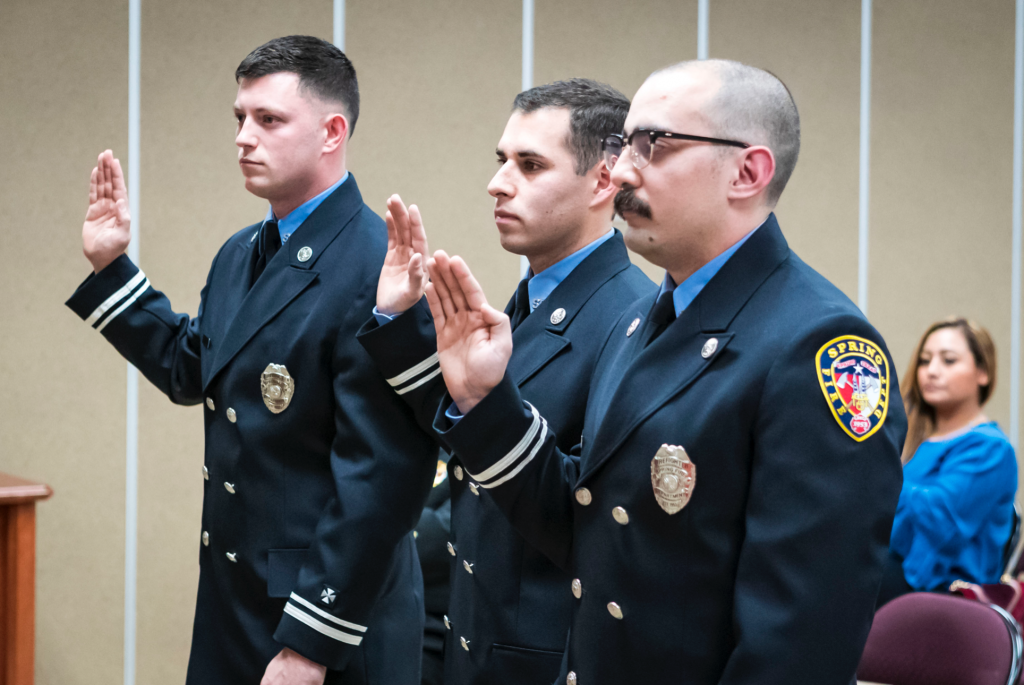 (Left to Right: Steven Villarreal, Santiago Eckardt, Rodger Hernandez. Photo by Joe Buvid)
In order to receive these promotions, these three men prepared for months to pass rigorous hands-on and written tests.
The three new Apparatus Operators were joined by friends, family and coworkers at their ceremony.
Spring Fire Chief Scott Seifert described how important an Apparatus Operator is to keeping the crew accountable and preventing mishaps with equipment.
"As Spring Fire Department continues its evolution into a combination department, accountability have never been more important," Seifert said. "Apparatus Operators do much more than drive fire engines, they are responsible for making sure their assigned engine, tower or ladder truck is ready to respond when you call 9-1-1 and to do the job that's required the second they arrive."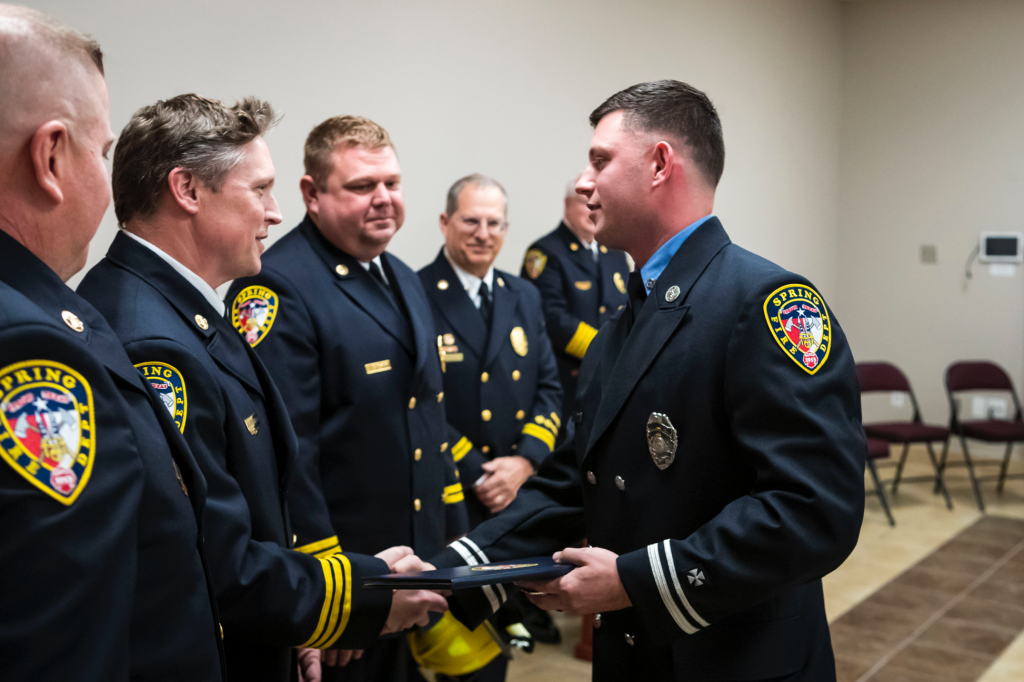 (Steven Villarreal shaking hands with Spring Fire Department Deputy and District Chiefs. Photo: Joe Buvid)
Thanks to the work these men will do with their crews, Spring Firefighters will be more efficient and safe when responding to emergencies. Their continued hard work and diligence is part of what propels the Spring Fire Department to continue to improve their response times and protect the ever-growing community of Spring, Texas.
Hannah Falcon is a junior telecommunication major at Texas A&M University. A writer and Managing Editor for The Battalion at Texas A&M, Falcon is spending the winter break as a volunteer writer for Spring Fire's Community News.