Kitchen Fires Keep Spring Firefighters Busy this Week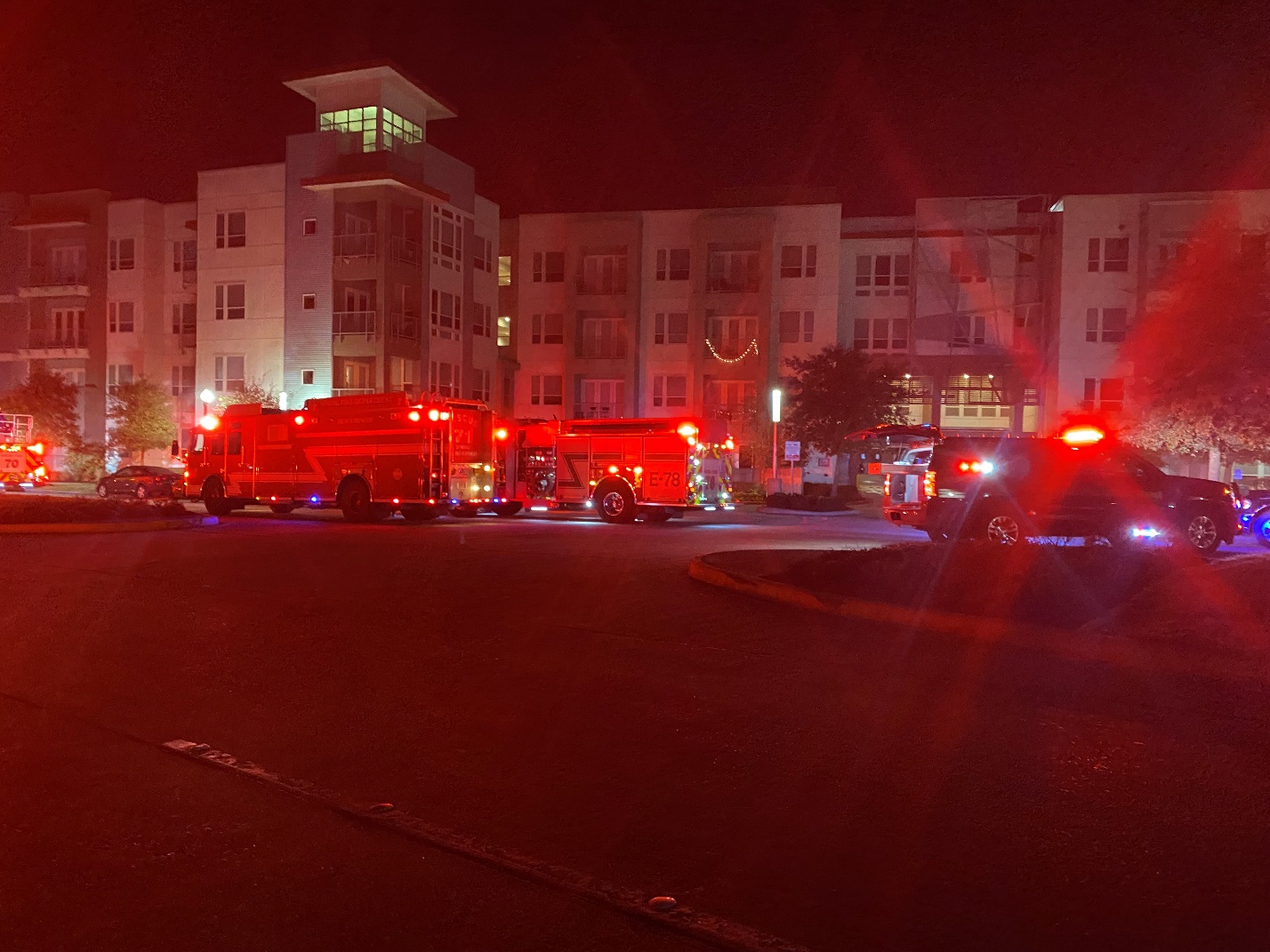 According to the National Fire Protection Association (NFPA), US fire departments respond annually to an estimated 172,900 home structure fires caused by cooking activities. NFPA's 2020 "Home Cooking Fires" report found cooking fires also cause an average of 550 civilian deaths, 4,820 reported civilian fire injuries and more than $1 billion in direct property damage every year.
Unattended cooking was the leading cause of cooking fires and casualties. Ranges or cooktops are involved in over 60% of reported home cooking fires, nearly 90% of cooking fire deaths and nearly 80% of cooking fire injuries. In about twelve hours between Tuesday evening and Wednesday morning, Spring Firefighters have worked multiple kitchen fires.
On Tuesday, Spring Firefighters dealt with a small grease fire on a stove at an apartment complex on Hirschfeld near Aldine Westfield and at approximately 04:30 AM on Wednesday, different fire crews responded to a kitchen fire at the Pierpont Apartments just north of the Hardy Toll Road near I-45.
Our colleagues from The Woodlands, South Montgomery County, and Aldine responded as part of an Automatic Aid agreement in case things got big quickly.
"The contents of an unattended pot on a hot stove caught fire. However, thanks to a single sprinkler head positioned above the stove, the apartment and building was spared major damage because the sprinkler extinguished the fire completely," said Spring Fire District Chief Chris vonWiesenthal. "Spring firefighters promptly got to work getting the smoke and odors out of the building."
Our colleagues from The Woodlands, South Montgomery County, and Aldine were released to go back to their territories while Spring Firefighters set up powerful fans to clear the smoke and helped clean up from the fire.
"The smoke alarms activated and awoke the residents to allow them time for a safe exit," added Chief vonWiesenthal.
A Harris County Fire Marshal's Office Inspector responded and remained on scene to ensure the sprinkler systems were returned to functional use and everything was safe for residents to go back to their apartment.
There were no firefighter or civilian injuries. Spring Firefighters then returned to their stations in time for shift change and breakfast!
When cooking, safety is key.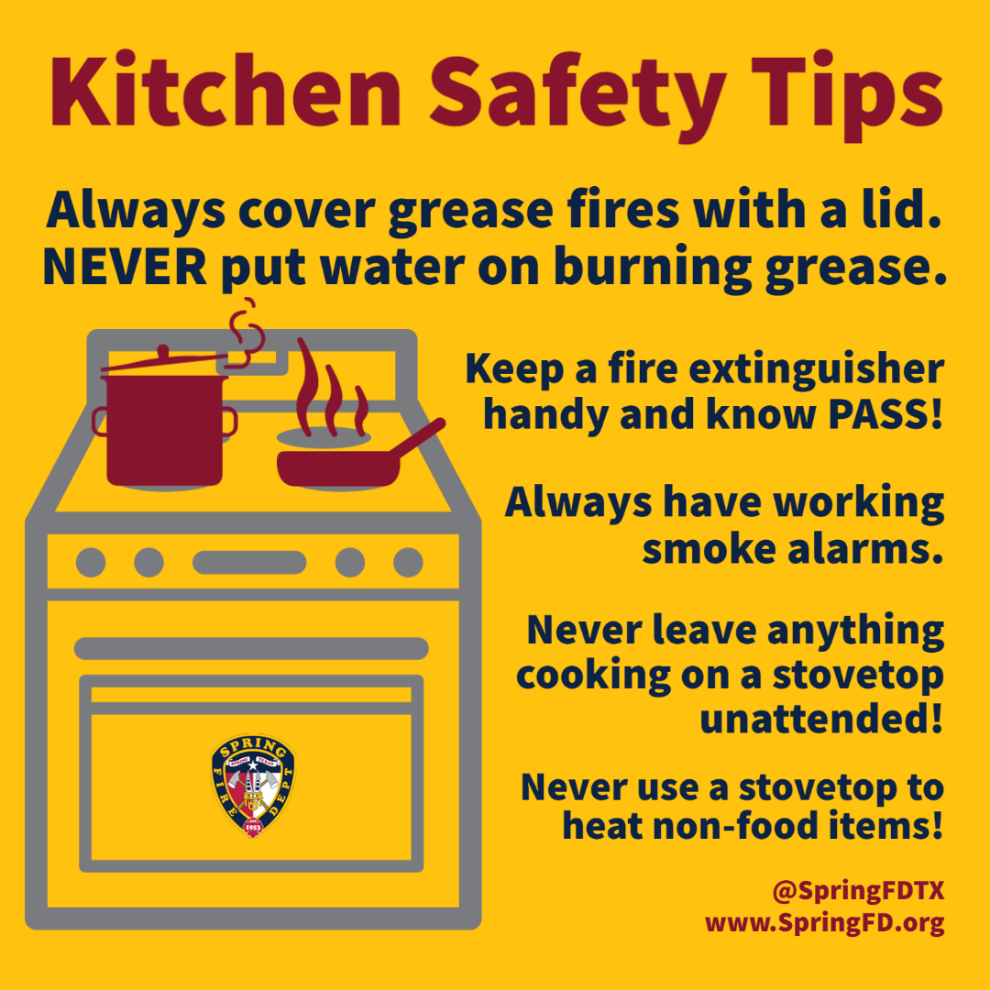 Never leave the kitchen when something is cooking on the stove top.
Have working smoke alarms.
Never use a stovetop to heat non-food items.
When cooking with grease or oil, P.L.A.N.!

Place a proper size lid for your cooking pan at a separate spot from your stove – Be ready to use it to cover the pot if it catches fire!
Look for items near the stove that can burn (plastic, packaging, etc.) and move them away from the stove prior to cooking!
Attend to your cooking at all times!
Never leave any items to cook alone!

Covering a grease fire with a proper lid smothers the flames by removing the oxygen and extinguishing the fire. Once covered, turn off the heat and let everything cool down. Dial 9-1-1 to have the Fire Dept. give you assistance and ensure your safety.
NEVER put water on a grease fire. It will explode & cover everything in burning grease.

Only use an approved Fire Extinguisher for kitchens. (Types ABC, BC, or K)

To use a fire extinguisher, follow the PASS method.

Pull the pin.
Aim the Nozzle.
Squeeze the trigger.
Sweep the foam across the base of the fire.
Learn more on our website at www.SpringFD.org and on www.NFPA.org.