Six Spring Firefighters received major honors on Saturday night at the 2022 Awards Banquet.
Fire Chief's Award – John Nanninga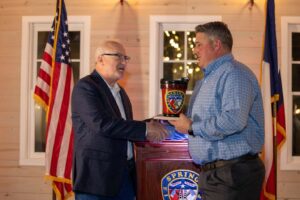 Part-time firefighter John Nanninga, who first joined the Spring Fire Department as a volunteer in 1999, was honored with the Fire Chief's Award.
"John has always been a mentor to young firefighters showing them the ropes and helping them be better," said Spring Fire Chief Scott Seifert in presenting the department's top award. "This year he stepped up to the challenge of upgrading our two-way radio communications. Our community is blessed by John's service and dedication."
2022 Firefighters of the Year
A Shift – Thomas Moriarty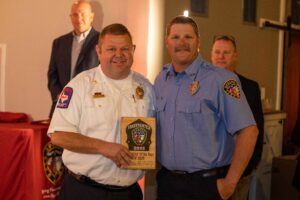 (District Chief Kevin Wiseman (l) presenting Firefighter Thomas Moriarty with the 2022 A-Shift Firefighter of the Year Award)
"Thomas Moriarty is our shift's firefighter of the year because he sets the example for what it means to be a "Senior Guy" in the firehouse by coming to work every shift ready and with a smile on his face," said Spring Fire District Chief Kevin Wiseman. "His positive attitude never waivers and he embodies the motto "duty first, brotherhood always".
B Shift – Juan Villatoro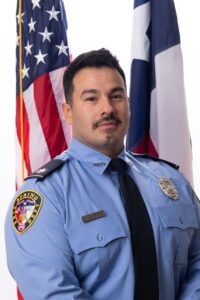 (Firefighter Juan Villatoro)
"B-Shift's Firefighter of the Year is Juan Villatoro because he can be counted on to always work hard and give freely of his time and effort even when doing the right thing is not the easything," said District Chief Chris vonWiesenthal. "He never shirks from duty or responsibility and can be counted on for a positive attitude."
C Shift – Daniel McCune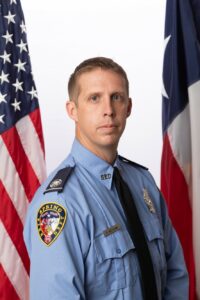 (AO Daniel McCune)
"Because his Captain knows he can be counted on for anything – emergency response, training, or taking on officer duties — at a moment's notice, Apparatus Operator Daniel McCune is this year's C-Shift Firefighter of the Year," said C Shift District Chief Jimmy Stewart. "Dan takes such pride in his work his captain says he is "an unparalleled brother in the fire service, firefighter, mentor, crew member, husband, and father."
Part-Time – John Nanninga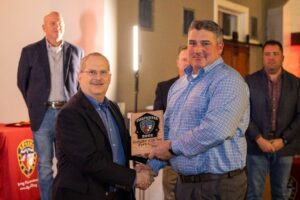 (B-Shift District Chief Chris vonWiesenthal presenting Part-time Firefighter of the Year John Nanninga with his plaque.)
"When he's not leading a Houston Fire crew or spending time with his family, John can be found teaching Spring Firefighters so much," said Chief Seifert. "John can always be counted to take on new tasks such as upgrading our radio systems.
Volunteer – Marc Corbeil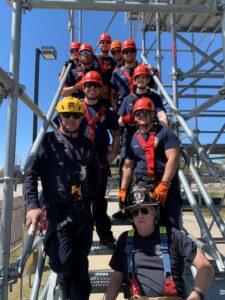 (Marc Cobeil, in yellow helmet, with the 2021-22 Academy Class)
"Marc Corbeil is not only one of our top staffing volunteers, he is so passionate about teaching future volunteers, he has spent the last several years revamping our volunteer academy where he is a lead instructor," said District Chief of Volunteers Joel Crenshaw. "Marc also chairs the board of the Volunteer Retirement System, serves on the rescue team and was appointed to the NFPA 1006 Committee that writes the standards for all Rescue certifications."
In an emotional moment at the beginning of the ceremony, the Spring Fire Chief honored the late Milton Ramsey by presenting his widow, Cathy, and sons, Mark and Matt with Chief Ramsey's Retired Chief's badge.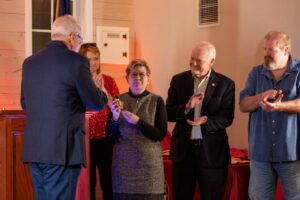 (Spring Fire Chief Scott Seifert presenting Cathy Ramsey with Chief Milton Ramsey's Retired Chief's badge while his sons, Mark and Matt Ramsey applauded.)
Years of Service Honors
Apparatus Operators Curtis Lawson, Matthew Sears, Nathan Smith, and Sydney Sundell; Firefighters Daniel Atkinson, Jeremie Bricout, Marcos Dacunha, Jordan Hendricks, Michael Manshack, Mark Millikin, Austin Mooney, Thomas Moriarty, Christopher Mouton, Lewis Rougeau; and Administration Assistant Shannon Taylor received their 5 Years of Service honors.
Firefighters Jaime Maglalang and Matthew Zmolek received their 10 Years of Service certificates and ribbons.
Captains Bryan Blackburn, Matthew Corso, and Christopher Harvin and Steven Scott Graeter received their 15 Years of Service certificates and ribbons.
Deputy Chief Jerod Davenport received his 25 Years of Service pin and certificate and Senior Captain Steve Schoonover and Quartermaster James Wayne Doss received theirs for 30 Years of Service each.
The Spring Fire Department was formed in 1953 as an all-volunteer department. Today the department has 137 full-time firefighters, apparatus operators, Captains, and Chiefs; 11 part-time firefighters; and 25 active volunteers.