The New Year started Hot and Early for Spring Firefighters
Very early on New Years' Day, two 9-1-1 calls came into the Texas Emergency Communications Center (TECC), which dispatches Spring Firefighters and another area departments to fires across hundreds of miles of North Harris County.
Around 2:30 on January 1, one call came from Whispering Willow and another from Trailing Vine that a nearby house in Timber Lane was on fire. Spring Fire Engines 71, 73 and 78, as well as Ladder 75, were dispatched to the scene. However, Engine 74 was closer having just extinguished a nearby fence fire. They arrived on scene in just a couple of minutes and got to work. Aldine Fire and Rescue Engine 21 and Medic 410 from Harris County Emergency Service District 11 Mobile Healthcare also came to provide mutual aid and any needed medical assistance.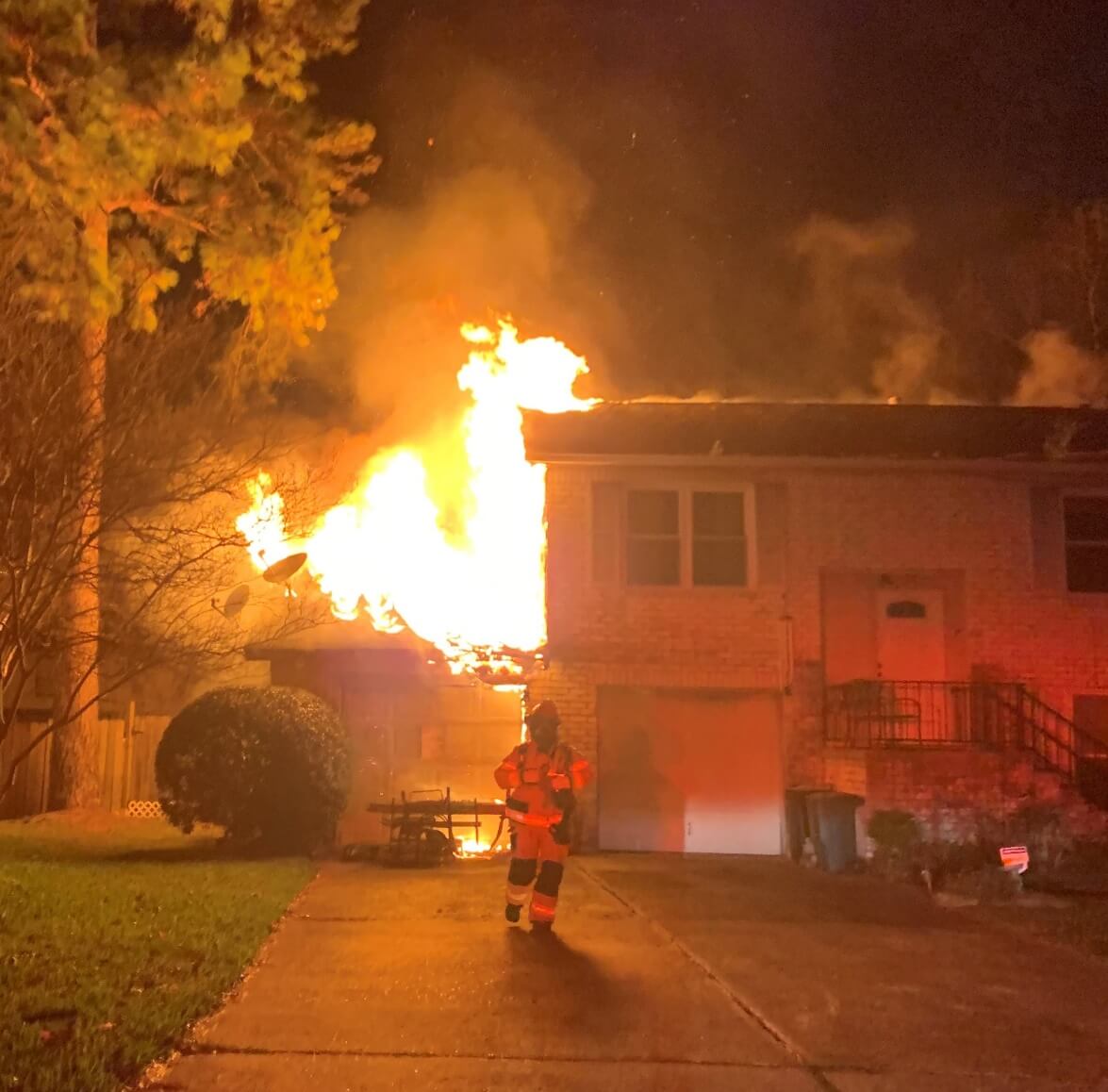 (Photo credit: Apparatus Operator Blake Thompson, a member of the Station 74 C-Shift crew)
When Engine 74 arrived, the crew had only a half tank of water due to the prior fire. In fact, the house fire was their third fire call in less than three hours, including a trash fire suspected to be caused by poorly disposed-of fireworks.
Captain Walter Juarez describes the scene upon rolling up on the two-story split-level home in the 23-hundred block of Oak River Drive in Timberlane: "There was heavy fire coming from the garage and it had already extended to the second-floor wall and penetrated the house maybe twenty feet into the attic."
While Captain Juarez did a quick size-up to see how and where the fire was spreading, firefighter Tyler Crane pulled the handline and started advancing towards the burning garage. Crane use the waterpower of Engine 74's tank as Apparatus Operator Blake Thompson worked to get water flowing through the pumper from the nearest hydrant.
As more fire crews arrived, AO Thompson worked with those crews to get more water pressure. Thomson then climbed on top of Engine 74 to use the deck gun — a mounted master stream device –that enabled him to force more water onto the second story and attic to knock down the flames.
As Captain Juarez and firefighter Crane advanced a handline into the burning garage, the captain noticed "some propane tanks inside that were releasing the propane" and adding fuel to the fire along with exploding ammunition. "At one point we were engulfed in fire around us. Because of the propane tanks, we pulled out and fought it from the outside."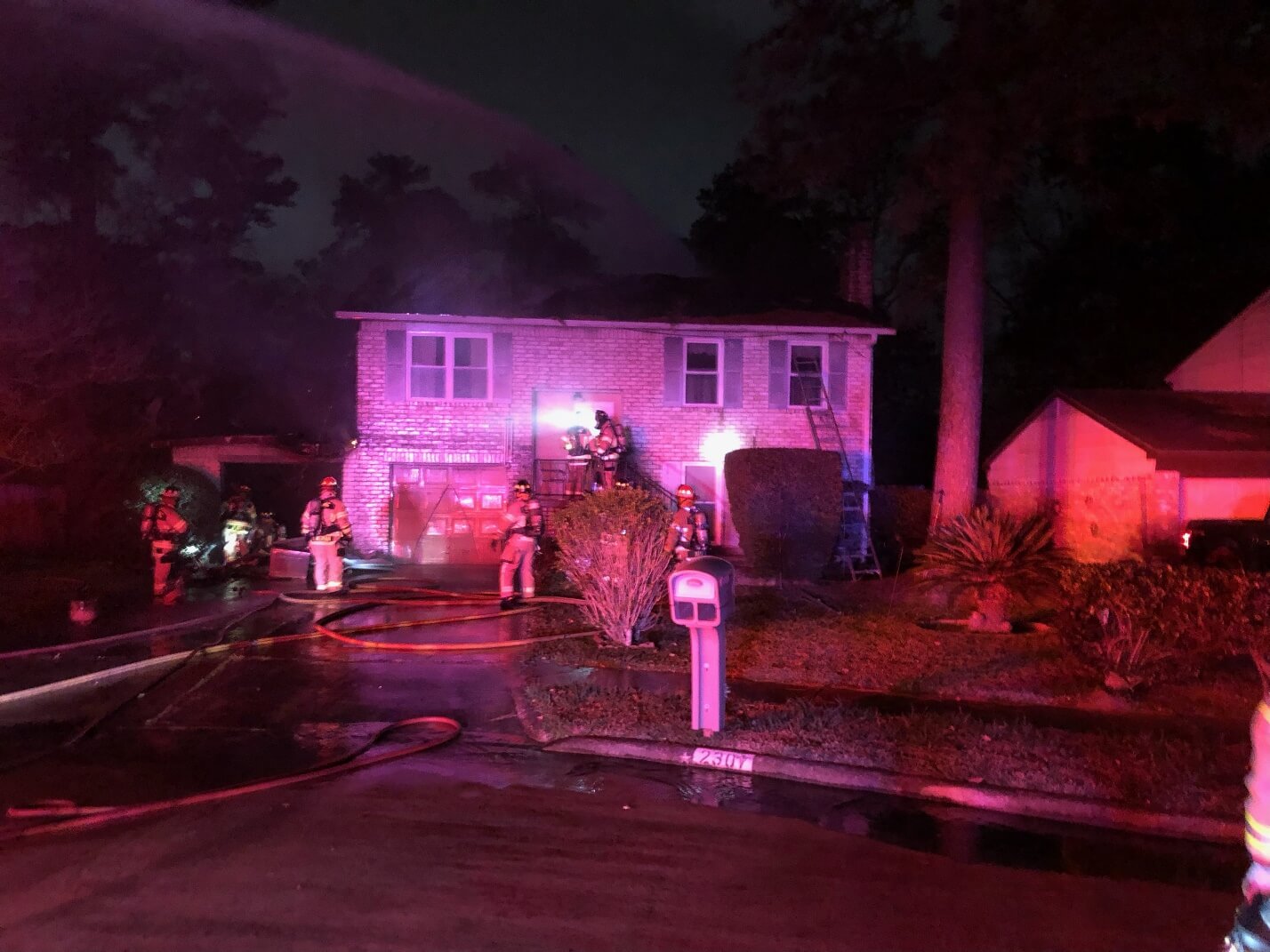 As they moved into a "defensive" position to fight the fire, the captain grabbed as many propane tanks as he could. He moved them away from the flames as other Spring firefighters, armed with extinguishers, surrounded the tanks on the driveway to cool them off.
"Engine 74 did a great job. They got water on the fire quick," said Station 73 Captain Larry Wilkinson who was serving as the Incident Commander. "There were no injuries." The homeowner wasn't home when the fire started. The Navy veteran learned about it in a call from a neighbor. Bob Schenck, and his dog, were visiting friends a few counties to the north.
Schenck, who serves on the board of the Timber Lane community's utility district, says Spring Fire crews not only put out the fire they saved his treasured pictures, memorabilia and irreplaceable hunting mounts. "They took everything off the wall, put it down in the den, and covered it with a tarp" because as one of the fire captains later told him, "I'm a hunter, too, and I know what those mounts mean to you."
"The crews did an outstanding job", added the widower who is grateful his precious mementos were not damaged.
"That's the best thing you can hear coming out of one of these circumstances," said Captain Wilkinson. "(The crews) of Engine 78 and Engine 74 took extra special care."
"We look to protect items that we know are important to families, including family photos, memorabilia — anything valuable or irreplaceable," said Tim Weiman, Station 74 A-Shift Captain who was working overtime at Station 78 helping lead the salvage effort. "It is our job to 'number one' protect life and 'number two' protect property."
"Property Conservation is important to all of us at the Spring Fire Department," according to Spring Fire Assistant Fire Chief Robert Logan. "Our crews strive to save as much of your prized possessions as we can from fire and water damage."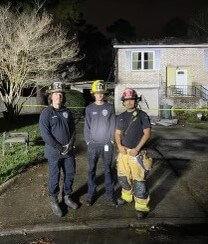 (Pictured left to right at the scene: Firefighter Tyler Crane, Apparatus Operator Blake Thompson and Captain Walter Juarez.)
Station 74 C Shift Captain Walter Juarez says it appeared that spent fireworks landed on dry pine needles that were covering the roof of the house. The fire caused heavy damage to the garage and roof prompting the homeowner to ask us to issue this warning: "please tell people to clean their roofs or quit firing fireworks – one or the other."
The homeowner has since visited Spring Fire Station 74 to meet the firefighters who saved his precious mementos.